THE LEADING MEN: Keeling, Bell and Parlato


Once More, With Keeling
Derek Keeling has played Danny in Grease over 600 times in venues all over the U.S. and Canada. As a contestant on TV's "Grease: You're the One That I Want," he came close to winning the part in the current revival but when the role went to Max Crumm, Derek thought his Danny Days were done. He had been working on playing Charles Darnay in rehearsals for the forthcoming A Tale of Two Cities musical when the Grease producers approached him. "When they called me and offered me the show, I didn't know exactly what to think of it because I had moved on mentally," he says. "Now that I'm doing it, I am really glad that this is where I've ended up. This is a show that I've done so many times and a show that I have such a personal attachment to. I couldn't imagine making my Broadway debut in any other show." We caught him on this third performance — only the fourth time he had actually done this version of the show with this cast, a night when Crumm and former Sandy, Laura Osnes, were in the audience.
Question: Are you right back into the swing of all things Grease?
Derek Keeling: It's starting to get more into my body. It's just so quick! I'm having a ball. I'm really having fun with this cast. It's a fun group of people to work with — very welcoming. You never know when you're coming in as a replacement, if they're going to give you a negative energy, but they're all really cool, and I feel welcomed into the cast.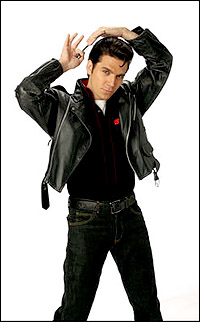 photo by Joan Marcus

Q: I know it happens all the time, but one really gets thrown to the wolves as a replacement. Do you think it is the best way to go about things?
Keeling: I guess it would be better if I got to do it more before I had to do it in front of an audience, but that's the nature of the beast. I got to the point in rehearsals where I was talking to the dance captains, and they asked, "What do you need?" and I was like, "Well, I just need to do it." It gets to the point where you just need to go out there with the cast and start developing relationships with the other characters. That's what I feel like is happening right now. I felt really good last night. That was the first time I felt like I could start to play a little bit, and I [wasn't thinking], "Oh my gosh, where do I go? What do I do here? Which foot do I start on?" . . . When you are originating a role, you get rehearsals and you get previews and all that stuff before anybody sees you. A lot of the audience, unless they are following the news, doesn't necessarily know that that is your first night or your second. People are still paying for tickets, so you want to seem like you are giving a 100 percent that day as much as any other day. I remember if I'd ever mess up in a show before now, I'd say, "Ah, whatever, it's just Texas, it's not Broadway." [Laughs.] I can't say that anymore.

Q: It was cool that Max and Laura came out to show support.
Keeling: Yeah, I didn't even know they were there until I saw them backstage after the show. They were very complimentary and said it was weird seeing other people do the show because they've never gotten to see the show before without them in it. It was weird for them to see other people do their job, but they were very nice and very supportive.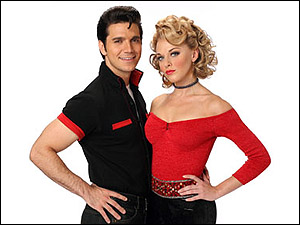 photo by Joan Marcus

Q: Ashley Spencer, your current Sandy, was not someone you were paired with a ton on the TV show.
Keeling: I actually worked with Laura a lot. Ashley and I got one quick little dance together on one of the last episodes I did. That was it. We didn't interact a lot in the TV show. It's cool because we understand each other and know what we went through to get here. It's also cool to start a show and already have that camaraderie.

Q: On TV, you were presented as "The Wholesome Danny." Do you endorse that version of yourself?
Keeling: I'm from West Virginia. I'm from a Southern Baptist family. I think that's where a lot of that came from. I believe I am genuinely a really nice guy, and I respect people that I work with. On TV, they take little parts of you and want to build it up into a character. I do think I'm a pretty wholesome guy. I am really good friends with my mom — I talk to her every day. I'm very close with my family, and I'm very traditional. I think that has a lot to do with where I grew up and how I was raised, but I do have a lot of those Danny qualities in me too [laughs].

Q: One Danny quality I read about is that you are a former drag racer. Is that true?
Keeling: It is! My dad's a drag racer still. When I was growing up, I probably did it from when I was 14 to 16, not very long because I had other sports. It was like the mini top fuel dragsters. When I started, I was one of the first in the country that did that. That was when they first started that division. There were probably only about 20 of us in the entire country and you'd see the same 20 guys at every race you'd go to. We were the pioneers of the junior drag racing division. It was fun. It was something I could do to bond with my dad and share that experience.

Q: Taylor Hicks is currently Grease's Teen Angel. Have you had a chance to talk with him?
Keeling: Yes, he's a really cool, down-to-earth guy. He kind of got here in the same way, though on a bigger scale, that I did. He knows what it is like. One of the things that has happened with a lot of us [from reality shows] is people see you on a TV show and think that's the first thing you did, when a lot of us had been working in the business for awhile. I got my first professional job ten years ago. Taylor said the same thing. He said he'd been on the road for about 15 years at the point of "American Idol," going around as a musician. He said, "I worked 15 years to establish myself, and now I've been working the last couple years to re-establish myself." I really understood what he was saying because I've had people come up to me and say, "Hey, welcome to the business. Welcome to New York." And I say, "I've been here for awhile, but thanks!"

[Grease is playing the Brooks Atkinson Theatre. Tickets are available by calling (212) 239-6200 or by visiting www.TeleCharge.com. The Brooks Atkinson Theatre is located at 256 West 47th Street in Manhattan. For information, go to greaseonbroadway.com.]

Night of the Hunter


I don't know if [title of show] is too clever for the common man, but my mother did wonder why I had mistakenly left out the title of the show in my interview with [title of show]'s Jeff Bowen last month, until I told her that [title of show] was actually the title of the show. Once she got it, however, we had a good laugh. Now, for more good laughs: I spoke to the other half of [show]'s dynamic duo, Hunter Bell. Roughly the Gracie Allen to Bowen's George Burns, the Tuscaloosa-born Bell ("I still say 'y'all' even though I've been here 15 years"), who calls himself a natural hambone, was last on Broadway in The Grinch and has written for Ringling Brothers. Has his life become a circus since the show opened? Let's see.

Question: One month in, how are you enjoying Broadway stardom?
Hunter Bell: [Laughs.] It's going great. After the opening, which was as amazing as it gets, it is fun to be settled into the run. So far, so good!

Q: You're not burned out yet?
Bell: Not yet, call me in another week and I'll be all jaded, just really calling out sick a lot…[Laughs.] It's a total dream to be on Broadway, and to have something that we created is another part that adds to the amazing-ness, and to get to do it with my friends, it doesn't get any better than this, truly.

Q: Have you enjoyed the responses you've been getting from Broadway crowds?
Bell: A month into it, audiences have been really supportive and really diverse, and my hope is that that continues. There was a group of women from Texas the other day who were like, "We just wanted to see something different. We didn't know what this was, and we loved it."

Q: What do you say to people who feel like there are insider jokes and references in the show that might go over people's heads?
Bell: I think the interesting thing is — and audiences hopefully will prove this — that people have been coming and having a great time who are not of the theatre, who just want to come and see a great show and see something original and new and different. Are there inside references? Totally. Do they cheat an audience from knowing what's going on or having a great evening? I'm hard-pressed to think that because somebody doesn't know who Betty Buckley is that it sends them spiraling and they just shut down completely. The people that accuse it of being insider-y are on the inside, and we get a lot of, "Well, I love it, but there's no way anybody else will get it." It's interesting that somebody can't stop with, "I love it." I think it speaks to the fact that Jeff and I did not set out to write an obscure, insider musical. We set out to tell our story, and it was about two guys writing about musical theatre. I've said before, if we were baseball fanatics, we'd be writing about statistics and talking about games. My brother is a television sports producer. Friends of his were here last night. They work producing NBA games and baseball games. They don't know about Mary Stout, but they do know about the bigger themes that resonate: how hard it is putting your stuff out there and achieving your dreams. People are smart. They have the internet. We got a letter from a kid in Iowa. He said he's coming to see the show in October, and he watches all our clips on youtube. The internet has changed what information is available. The New York Times is online. Playbill.com is online. You can read an update every day about David Hyde Pierce. It's not limited to the tri-state area. The internet has changed the game about what people's knowledge is. People are smart everywhere is what I tend to believe.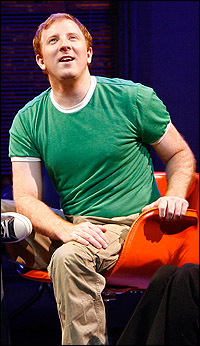 photo by Carol Rosegg

Q: Some of the heavier moments in the show, the battles you guys get in when you adapt the show for Broadway, how real are those?
Bell: It's interesting. I had a great writing teacher, Lynda Barry, who wrote, "The Good Times Are Killing Me," and she had this great word to describe her work: autobiofictionography. And, that sounds like us a little bit. There were things that were heightened and condensed because we wanted to write a musical comedy, not a documentary. That being said, everything you see onstage came out of seeds of stress. It was inflated a little bit because I tend to think we've had a lot of therapy, and we really respect each other as collaborators and peers. Rarely would we just storm out of a room or fight. That's a little bit heightened because it's fun to watch onstage. I don't know if it is as fun or interesting to watch people calmly, collectedly, respect each other, but the seeds of what you see are absolutely true. The questions of do we belong on Broadway, do we need to change to fit people's preconceived notion of what a Broadway musical is... I think what you don't see in the show is that all of us shared those fears. Sometimes Jeff would have them, sometimes I would. For the purposes of [title of show], the musical, what you see on stage has been heightened.

Q: Jeff told me you guys were invited to game night at Joanna Gleason's. How did that turn out?
Bell: We haven't gone yet, but in my mind I hope we will be re-enacting Into the Woods while we barbecue chicken. That's my goal. Then we'll move into a came of Celebrity. Although, what is a game of Celebrity like when you actually play with celebrities? But that's been amazing, the icing on the icing on the icing on the cake. Joanna Gleason has been a hero of mine. I came up to New York and saw Into the Woods with her in it. To have people whose work rocked your world and blew your mind, to have them come to see your work and get to meet them…Normally I would be at the stage door with a Playbill and a sharpie — and I still am — but to talk to them about their work and how they influenced you. From Joanna Gleason to Andrea Martin to Bob Martin to Des McAnuff to John Kander, the list goes on and on. Bill Irwin was at the show the other night and sent back a nice note. That blows my mind. That's part of the walking dream.

Q: It must be tempting to find a way to write such moments into the show.
Bell: Peter Gallagher came to the show the other night. Now, for an opening-night gift, Ken Billington, who designed our lights with Jason Kantrowitz, gave Jeff a Grind show jacket and me an A Doll's Life show jacket. I think they had been in Ken's closet until the opportunity came for the right people to pass them on to. So Peter Gallagher came to the show, and I ran up to him with my A Doll's Life jacket, and so many things came together in that moment! He was like, "Where the hell did you get that?"

[[title of show] is at the Lyceum Theatre (149 West 45th Street). Tickets are available by calling (212) 239-6200 or by visiting www.TeleCharge.com. Also check out the "[title of show] show" on youtube for further adventures of Hunter and the gang.]