THE LEADING MEN: Porgy and Bess Star Norm Lewis



Photo by Joseph Marzullo/WENN
*

It's not as though Norm Lewis doesn't have some choice credits on Broadway — or that his voice isn't smooth and rich and shimmery as ribbon candy — so why does it feel like he is finally in his full glory as a Broadway Star in Porgy and Bess? Is it because he's playing an iconic role, the disabled beggar of Charleston's Catfish Row, in one of the masterworks of George Gershwin? Is it the variety he brings to the part — a mix of warmth and humanity and violent passion? Is it that pitch-perfect voice that feels so at home in the baritone-tenor world? Whatever it is, his Porgy both complements and erases his Broadway resume, which already includes Chicago (as Billy Flynn), The Little Mermaid (as King Triton), Les Misérables (as Javert), Side Show (as Jake) and Sondheim on Sondheim (in which he was in the principal ensemble, among Barbara Cook, Tom Wopat, Leslie Kritzer and Vanessa Williams).

We spoke to Lewis the week after the Jan. 12 opening of this controversial Porgy and Bess (now branded as The Gershwins' Porgy and Bess, and co-starring Audra McDonald) to talk about the differences between the original 1935 opera and this newly revised "musical-theatre" version adapted by Suzan-Lori Parks and Diedre L. Murray under the direction of Diane Paulus.

I'm curious to know what your experience with Porgy and Bess was before this. Did you know it? Had you been in it?
Norm Lewis: My earliest remembrance of it is just hearing the songs being played on the radio, or people singing them on television somewhere on variety shows and things like that — especially "Summertime," you know? "Summertime" was always a favorite and probably the most iconic song of all of them. Throughout the years — "I Love You, Porgy" and "I Got Plenty of Nothing," you would hear those randomly. I had heard of Porgy and Bess but never really saw it. I never even saw the movie. I know it was on television when I was growing up, but I never really sat down to watch it.

Back in the '80s, there was an opportunity to be a part of it with the Orlando Opera Company. They just needed some bodies on stage to be part of the community. So, I auditioned for the Orlando Opera Company, and I got to be an extra — basically a part in the chorus. Donnie Ray Albert was our Porgy and Elizabeth Graham was our Bess, and she's a professor at the University of Florida. It was great to learn all that music and to be a part of that whole event. It was beautiful, but it was four hours long. [Laughs.]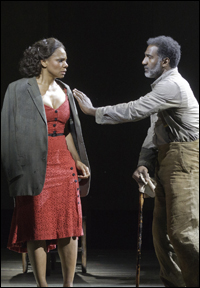 photo by Michael J. Lutch
When you came into this newly revised production, did you want to go back and study the original opera or did you simply let that go and focus on what adapters Suzan-Lori Parks and Diane Paulus were doing?
NL: I didn't really go and look at the opera. Once I discovered that I was doing it, I wanted to start it fresh. My acting coach always says, "Everything is in the text. You can find it in the text." And I knew that they were going to try something new and innovative with this. I wanted to see what was going to go on — to try and bring what I could to it, with the discovery of what we were doing. I did go back and I read the book, which I had never heard of before — I never knew there was a [novel] called "Porgy," so that was great for me: To bring elements from the book to this piece was great.
Do you like to create or draw upon your character's "back-story" when crafting a performance?
NL: I do like back-story, yes. With most of the productions that I have seen — or even snippets of it, and the one that I was in — it seemed like Porgy was…a happy-go-lucky kind of guy, but, in the book, he was actually kind of mean. He doesn't like children because they spit at him and tease him and things like that, so I wanted to bring those truthful elements to it. You know, it doesn't necessarily have to be stated, but it's my subtext. Even when I make my entrance: I come from begging and having worked so hard all day to try and come to this crap game. I brought in a lot of different little elements that were in the book.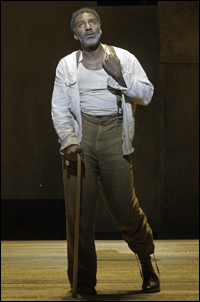 photo by Michael J. Lutch
Is there a further explanation of Porgy's disability in the DuBose Heyward novel? Was it illness, injury, a birth defect?
NL: Well, I say in the show that I'm "crippled from birth." It's never been established — in the book or even in the opera — but we've added a line: "I'm crippled from birth." It could be polio, it could be…anything. But we wanted to give it a definite beginning — a genesis. And we didn't want him to just have "a bum leg." [In the original it's] him on his knees in this goat cart.
In the new production, Porgy walks with the aid of a cane, with twisted legs.
NL: With our version, it really does show his struggles…what he has to do and what he has to cope with, day by day. Even just going up a flight of stairs is a difficult task. And, also, it helps with Audra — or Bess, I should say — in developing our relationship, in the sense that she helps [Porgy] a lot of times.
There's also an incredibly practical storytelling issue here. [Spoiler alert!] If he is about to really make a life-changing journey at the end of the show, a goat pulling him on a cart becomes a little…impractical.
NL: Right.
[Spoiler alert!] Your Porgy gets braces for his legs. There is a medical hope. That's new to this production.
NL: Yes.