THE LEADING MEN: Tveit, Sutton and Caruso



Photo by Hoebermann Studios
Dancing Through Life
Aaron Tveit has established a pretty nifty career for himself of late. The native of Middletown, NY, has gone from roles in Next to Normal to Saved to Broadway blockbuster Wicked in just a matter of months. He has also been involved in the workshop of Catch Me If You Can, the anticipated Terrence McNally-Scott Wittman-Marc Shaiman musical. He even has a small role in the upcoming Dreamworks film, "Ghost Town," in which he got to clown around with Ricky Gervais and "SNL" star Kristen Wiig. Tveit has all the makings of a rising star, but for now, he's firmly focused on being the best Fiyero he can be.

Question: How has it been becoming a part of the Wicked phenomenon?
Aaron Tveit: It's very interesting joining a show where the train is already running — you just kind of go with it. This is one of the easiest transitions I've ever made into a company. It's a great group of people. They make you feel really welcome, and the cast is really amazing. You don't feel like there is any judgment. Kerry Ellis, who just came over from London, she and I had a week of rehearsal together, even though she started the week before me, so we got to know each other a little bit before we started in the show.

Q: It seems like a show with a lot of technical aspects to get used to.
Tveit: I got a chance to trail David Burnham, who was doing the show before me, so I watched from backstage after I'd already figured out what was going on onstage, and that's a whole different thing, trying to figure out where to stand backstage and where not to stand because there are huge set pieces moving off and on at all times. But the stage managers are great at directing me: "You may not want to stand there." [Laughs.] Learning where you are going to be safe offstage is almost as tough as learning what you are doing onstage.

Q: How do you spend your time when Fiyero is not onstage?
Tveit: I sit in my dressing room. I like to read, so that's nice. I usually just sit and watch TV with the folks in the hallway. It has been nice that the Olympics have been on. I watched a lot of those.

Q: That brings up an aspect of you I had heard about, that you grew up a huge sports fan.
Tveit: Sports were my life, basically. When I was in high school, I played three sports, but I was also involved in theatre, show choir and chorus. What was really nice about my high school is I never once had to choose between theatre and sports. I was always able to do everything. I would miss basketball games if we had a chorus concert. I would miss practice for our musical if I had a basketball game, so everyone was always very willing to let me spread myself all over the place, which is amazing because at the time, I didn't really know that this was what I wanted to do, so it was nice to pursue everything and decide later.

Q: Being from upstate New York, did you come down to New York City to see shows?
Tveit: I did. I got a chance every year. We came down with my chorus in high school and saw at least one Broadway show. And, in a couple of the academic programs I was in as an upperclassman, we would come down and see shows, too, which was amazing to be exposed to New York theatre from a young age.

Q: What was your epiphany show, where you said, "That's what I want to do!"?
Tveit: I saw Rent my senior year of high school with my chorus. I'd seen other shows, but that was really the first super-contemporary rock musical I had seen…That was the first time I was like, "Maybe I could do that," which was funny because I was 18 at the time, and two-and-a-half years later, I was on the road doing Rent.

Q: You went to Ithaca College. You cannot walk down the street in New York without bumping into some Ithaca grads on their way to an audition.
Tveit: I know. There are so many people in all aspects of the industry. Actors, tons of stagehands…There's something about that place. It's a special place, Ithaca. It's this crazy-cool liberal arts town that has two huge colleges and tons of local restaurants. They really do good work in the theatre program there. Also, their communications school is amazing. Tons of people who are producers and work in television behind the scenes went there, too. I went there as a music major. I was a voice major my first year. That's when I realized I really wanted to do theatre, because I was away from it for the first time since I had been about 14, and that solidified for me that this is what I wanted to do. I auditioned for the theatre school there, and it was a miracle that I didn't have to leave the college I was at when I decided to change my major. They have a great music school and a great theatre program, so it just worked out very well. I was glad that I didn't start school there as a theatre major because I wasn't sure coming out of high school what I wanted to do. It was nice to be away from it, and that made me realize that I missed it and that is what I needed to be doing with myself.

Q: Your career has been something of a whirlwind. Let's just touch on some of the projects you've done of late: Next to Normal, the musical that dealt with the issue of manic depression.
Tveit: I still get stopped by people who saw the show and say, "Thank you. Thank you for speaking to that." I can't tell you how many people came up to us after each show and told us, "Wow. I just saw so much of my life onstage." [Depression] is something that seems really obscure when you see it in a theatre, but when you talk to people who come to see it and hear their reactions, you realize that it is such a prevalent part of life and our society today that it really needed to be told, and still needs to be told.

Q: On a goofier side, Hairspray. Did you have fun as Link?
Tveit: I sure did. That was a show I saw a few years ago, like Rent, and thought, "This is great." Then I found myself in it about a year later. I got a chance to do that on the road for a year and had such a blast. And, making my Broadway debut in that was incredible, too, because it was a show I was already familiar with, so I wasn't worried about that part of it. I had about 75 people to see me on my opening night, and that was one of the craziest experiences. It was like a rock concert in there that night.

Q: What about Saved Off-Broadway?
Tveit: I had a blast there, too. What an amazing group of people to work with! Everyone worked so hard on that piece, and the creative staff was incredible. That's another one, a story that hasn't been dealt with: teen pregnancy and teenagers finding their faith. That was stuff that hadn't been touched on either, so it was really awesome to be part of that and see the reactions it elicited from the people who saw it.

Q: And, are you still attached to Catch Me If You Can?
Tveit: Yeah. Actually, we just did another reading about a month ago. We're waiting to hear what the next step will be, but everything seems to be very positive, and the last reading was myself and Tom Wopat again, and Norbert Leo Butz joined us, so that was amazing. It's an incredible piece, and I pinch myself every day that they still want me to be a part of it.

Q: Did you share Fiyero stories with the original Fiyero, Norbert?
Tveit: We sure did. We laughed about that a little bit. He told me some things [laughs]. You know, that's a totally different thing when you open a show like he did, so I got to pick his brain a little bit.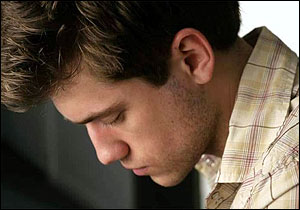 photo by Hoebermann Studios

Q: Not to dig for dirt, but you've been having such wonderful experiences. Give us a low or embarrassing moment from your career so we don't get the idea everything is perfect.
Tveit: I got tons of those! Recently, in my first week in Wicked there's a scene in the second act where Elphaba comes back, and I decide that I'm going to leave with her, and I grab her to run offstage, and I say, "Let's go! Let's go!" I say it twice, and the first time I said it, bang! I bit it. Fell right onto the floor. I stood back up, and the audience was laughing. I said, "Let's go!" and we ran off, so that was one here so far. I just bit it so hard on stage.

Q: Finally, what do you think makes Wicked endure?
Tveit: You're looking at magic on Broadway, I think. It sounds cheesy, but this show is just so big that it elicits such strong reactions from the audience. And, also, they are so committed here to maintaining the show. They are constantly putting changes in. The show is very different now than when it opened. Whenever they find something that works a little better, they aren't afraid to go in and tweak things. The show is just really pristine and really precise and still kicking because of that. They get really dedicated people to be in the show. This ensemble is amazing. The dancers are incredible. From top to bottom, everyone is so committed and going for it every night, and I think it pays off. You have to make sure it is like that when there are 1,850 in the audience every night.

[Wicked is playing the George Gershwin Theatre. Tickets are available by calling (800) 755-4000 or by visiting www.TeleCharge.com. The George Gershwin Theatre is located at 222 West 51st Street in Manhattan. For more information on Wicked, go to wickedthemusical.com.]

Oh, Boise!
It is September, which means the New York Musical Theatre Festival is nigh. Running Sept. 15–Oct. 5, the Festival features tons of shows, workshops and readings, all with the idea of giving fresh musicals a chance to be seen. Altar Boyz, [title of show], the aforementioned Next to Normal, all got a boost from being produced through the Festival. I talked with Rob Sutton, who will be making his NYMF debut as Whip Masters in Idaho!, the musical Rodgers and Hammerstein might have made if they were obsessed with potato farming and life in the state that gave us Napoleon Dynamite. Sutton has been in Beauty and the Beast on Broadway, Mamma Mia! in Vegas and now a pig farm in Queens, as you shall read...

Question: Tell us about Idaho!. It sounds wild.
Rob Sutton: We've only done readings so far, but it is without a doubt the most fun I've had in my career. It is one funny show. We're definitely paying homage to those classic Rodgers and Hammerstein musicals. The characters are definitely created with a twist, and we do it in kind of a bawdy way.

Q: Is it primarily Oklahoma! being spoofed or are others referenced?
Sutton: You'll definitely recognize some of the characters from all of those R&H musicals. I guess it does stick closer to Oklahoma!, but it is its own show and stands on its own. The characters are created from scratch in their own way. Our writer, Buddy Sheffield, could not be funnier.

Q: How much of a part do potatoes play in the proceedings?
Sutton: [Laughs.] Potatoes play a huge part, and there is a big, big plot twist involving some potatoes. They are definitely one of the stars of the show.

Q: Tell us about your character, Whip Masters.
Sutton: He's one of these classic Rodgers and Hammerstein heroes — a spud-buster who works hard and a good ol' boy with a big smile who isn't afraid to get his hands dirty. He likes the girls. He likes the cows and the pigs. Growing up on a farm in Arkansas myself was research for all that.

Q: What songs do you get to sing?
Sutton: There is a song called "Idaho!"— the big number. That's the other thing: Keith Thompson's score is at once like something you know and love, but at the same time, it's completely new and fresh. It's completely accurate in terms of the style and sweeping nature and vocal arrangements of all that great, great Broadway music. And you go out humming it, and yet it is completely new and wonderful and so much fun to sing. That song "Idaho!" is a great big song. I have a nice love duet with my leading lady, Elena Shaddow. It's going to be fun to get to know her.

Q: How did you become involved with the project?
Sutton: I met Keith Thompson back in, gosh, 2003, when he was casting for a show he was doing called Kooky Tunes. We became friends during that process, and about a year later, I went to do We Will Rock You in Las Vegas, where he was the musical director and conductor, so that put us back in touch on a day-to-day basis. That's when he mentioned Idaho!, and he wanted to put a reading together, and to my knowledge, that was the first formal reading, and we did it then with a lot of the cast members from We Will Rock You in a small theatre in Las Vegas at UNLV, and I have done all the readings since then.

Q: I know the West is much bigger than people here realize, but while in Vegas, did you ever make it to Idaho?
Sutton: You know I have never been to Idaho [laughs]. I haven't added that to my list yet — although we did do a photo shoot on a farm in Queens last week with some pigs and chickens.

Q: There's a farm in Queens?
Sutton: This place was a hoot. The Queens County Farm Museum, I think, is the name of it, and I think it's actually a preserved farm with all these barns and chickens and pigs and old farm equipment. We had a great time out there in the mud with the pigs.

Q: What is the theatrical "scene" like in Vegas. Do you see people from other shows? Is there a sense of a theatre community?
Sutton: There is a definite sense of a theatre community. The thing about the Vegas shows, and I'm talking about the Broadway-transfer shows, is that we're all on a different schedule, so it makes it a little difficult to get together, but there were events created. We did a composer's showcase once a month after all the shows came down like at 11 PM, which brought everyone together. I think because we're all there working away from our homes for the most part, it fosters that community even more so in that we don't have our own apartments or our own lives or our own significant others or whatever. We're kind of just there, doing our job, and that puts us all together in a different way. As far as the scene and the shows, I think there is never anything wrong with bringing theatre to more people, and I hope that Vegas continues to support the need for that. There are some challenges inherent in Vegas like the casinos right outside the lobby door and cup-holders in the seats [laughs], but I had a great time there.

Q: Talk about your Broadway time with Beauty and the Beast. Did you get to go on much?
Sutton: Yes. I was with Beauty and the Beast for a little over a year, and I understudied both the Beast and Gaston and went on many, many, many times. Steve Blanchard, who was playing the Beast while I was there, was wonderful, and I wish to follow in his footsteps. He actually took a short leave of absence to work on a project, so I got a three-week stint as the Beast, which was great and something I never expected, but to have that kind of repetition as an understudy was pretty special. There was one night there were about 25 people from Arkansas in the front row of the mezzanine. That was kind of cool.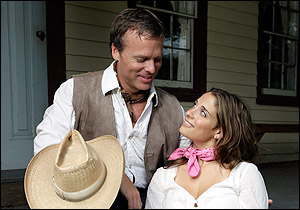 photo by Richard Termine

Q: Have you met your Idaho! co-stars yet?
Sutton: I met a few people at the photo shoot. Some people are returning from the readings of the past, such as myself, Stacy Todd Holt, Jen Perry and Jay Rogers, so I know those guys, and we've had some amazing additions: Elena Shaddow, who I mentioned, and Beth Curry and Ramona Keller, among others. We haven't really gotten together at any length yet, [but] we start rehearsals soon, and I expect to be rolling on the floor laughing every day.

[Idaho! is part of the New York Musical Theatre Festival and will be playing at Off-Broadway's 37 Arts Theatre Sept. 25-Oct. 4. Tickets are available by calling (212) 352-3101 or by visiting www.nymf.org. 37 Arts Theatre is located in Manhattan at 450 West 37th Street. For more information visit www.IdahoMusical.com. For info about other shows in the festival, check out www.nymf.org.]