A LETTER FROM AUSTRALIA: Love Never Dies, Annie, Cate Blanchett, David Williamson and More



Joan Marcus
*
Hugh Jackman, Australia's biggest theatrical export since Peter Allen (whom, of course, Jackman played on Broadway in The Boy From Oz), did record business during his recent Broadway stand, and a stage version of Priscilla, Queen of the Desert that began in Sydney is still parading more sequins and feathers at Broadway's Palace since that theatre housed the original Broadway run of La Cage Aux Folles.
Another Australian-originated stage version of Dirty Dancing is now simultaneously touring across the U.S. and U.K., after completing a four-and-a-half year West End run last year. Meanwhile, Cate Blanchett, now co-artistic director at Sydney Theatre Company with her husband, writer-director Andrew Upton, has visited the U.S. with the company's productions of A Streetcar Named Desire and Uncle Vanya (to BAM and Washington's Kennedy Center, respectively, in 2009 and 2011), with Vanya due to be reprised at New York's City Center in July as part of the Lincoln Center Fetival in a production that Ben Brantley described as "among the happiest of my theatregoing life." This year STC will also bring their production of Botho Strauss's Gross und Klein (Big and Small), also starring Blanchett, to London's Barbican Theatre in April.
So although Australia may be on the other side of the world, not just hemisphere, from the West End and Broadway, its theatrical endeavors have an increasingly international profile. As an English-speaking nation with a rich cultural past and present, it has become a hotbed of theatrical creativity, equally at home with lavish commercial musicals as it is with avant-garde experimentalism.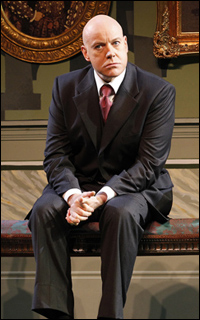 photo by Jeff Busby
Right now, for example, Sydney is hosting a production of that old Broadway warhorse Annie, with Anthony Warlow — Australia's original Phantom in The Phantom of the Opera — as Daddy Warbucks (at the Star's Lyric Theatre, through March 4, then touring to Brisbane, Melbourne and Perth).
There's also a new production of Andrew Lloyd Webber's Phantom sequel Love Never Dies (at the Capitol, through April 1) that has transferred from Melbourne, where its composer saw it and declared it "the finest I could ever, ever hope for." He went on to say, "Three times in my career this has happened. The first time was when I saw Evita in rehearsals and I thought, 'This design and production is absolutely perfect and what I want,' and again when I saw The Phantom, and this is the third time I can say it again…. You wouldn't recognize this from London."
Last October, Lloyd Webber's The Phantom of the Opera marked its 25th West End anniversary with a spectacular staging at the Royal Albert Hall (now available on DVD); but it was an anniversary that Love Never Dies never lived to see in London, where love for it quickly died after a run of only 16 months.
It was arguably the most eagerly anticipated new musical the composer had ever written, but the original production failed to realize its potential, though a subsequent extensive London make-over restructured and vastly improved it. Now, Down Under, an entirely fresh set of creative eyes —under the leadership of director Simon Phillips (who also directed Priscilla, Queen of the Desert) — has applied a brand-new vision to it, and here, at last, said some critics, including this one, was the masterpiece that was always crying to be let out. (It's re-designed by Gabriela Tylesova with a Gothic grandeur that echoes those of late Maria Bjornson's original designs.)