A LETTER FROM LONDON: Matilda, Pippin, Eddie Redmayne as Richard II, One Man, Two Guvnors and More



Photo by Johan Persson
*
Sometimes I just know I'm a spoiled brat. I get to go to the theatre every night, something many fans dream about. Often, if I'm not writing an overnight review for publication the following morning, I get to go out to dinner after the show as well. Recent British surveys among various demographic groups indicate that most people's ideal evening is to go out to dinner in a restaurant, followed by a West End play or musical. Me? I'd just love an evening of bad television while eating a carry-out Chinese meal. That's a consequence of seeing five shows a week, 48 weeks a year (the other weeks I'm in New York, seeing, you've guessed it, five NYC shows a week) and coming to the end of the year a bedraggled wisp of a woman who has seen too much. Theatrically speaking, that is.
Before I disappear into a welter of my own self pity I should perhaps share what I've been seeing recently on the London stage. Because some of it is truly marvelous and I'm aware, believe me, of my privileged position in being able to see it all. One of the oddities of the season is that we currently have not one, not two, but three great farces on our boards. Farce is, in some ways, the most difficult theatrical form to bring off, relying as it always does, on split-second timing, perfect casting and direction of the highest order. And we've got three, one of which will be arriving on American shores in April with its original lead for Broadway, while continuing to play London with a second cast. That one is One Man, Two Guvnors, a breathtaking tour de force for its young leading man, James Corden. Corden, one of the original History Boys, was previously best known as a comedian who also starred in a television sitcom, "Gavin & Stacey." Nobody knew he could take and carry an entire big-cast West End show and bring down the house every night. Because he was such a revelation to London critics and theatregoers, we're willing to give a sporting chance to his successor in the role, Owain Arthur, a complete unknown who takes over from Corden when he leaves for New York.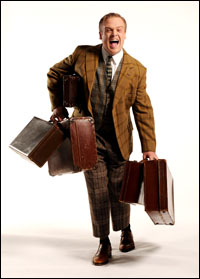 photo by Hugo Glendinning

Richard Bean's One Man, Two Guvnors is adapted from the Carlo Goldoni play of 1743, The Servant of Two Masters, a commedia dell'arte about a good-natured young man, none too bright, who, through a succession of manevres only possible in farce, finds himself working for two bosses whose aims are antithetical to one another and who are each ignorant of the other's existence. Corden's relationship with the audience, as well as that with the other actors and the play itself, is so strong that he carries them with him, even when the unforeseen happens.

Michael Frayn's Noises Off, originally performed in 1982 in London, Broadway and then throughout the world, is possibly the most meticulously crafted farce in theatrical history, simultaneously playing a farce while parodying it and parodying it while sending it up. Its production has to be a kind of ballet, its choreography flawless, and its timing impeccable. In addition, it needs a cast which not only understands the form but is willing to play with it while taking it seriously, and a director who is fearless. At the Old Vic, all these come together and it is one of the most satisfying theatrical evenings currently playing in London. Even if you saw it first time around, see it again in its current incarnation. You won't be disappointed.

A big surprise in the hit stakes is the first stage adaptation of a creaky old Ealing Studios comedy film, The Ladykillers, at the Gielgud. Fine ensemble playing from a first-rate cast brings this soppy story to a hilarious boil every night. It concerns an elderly lady who rents out rooms in her ramshackle London house to a gang of thieves and murderers who manage to convince her that they're a classical music ensemble. Audience members were literally choking with laughter the night I saw it. I kept dropping my program on the floor as, I too, enjoyed the fun. A fabulous set by Michael Taylor is so significant to the production that it seemed to be another member of the cast, so perfectly did it work into the action. In the 1955 movie Alec Guiness as a sinister "Professor," the gang leader, led the cast of actors which included Peter Sellers as the youngest of the crooks but, without giving ground to anyone, Peter Capaldi in the same role has eliminated the memory of Guiness while taking his measured place in a new cast of astonishing range and intricate attention to detail. The director, Sean Foley, is the ringmaster for all the attendant mayhem and the audience leaves the theatre exhausted from laughing.