A LETTER FROM LONDON: Much Ado in India, Cabaret and I Am a Camera, Alan Ayckbourn's Chorus of Disapproval



Photo by Tristram Kenton
*

What on earth are Dame Eileen Atkins and Sir Michael Gambon doing in a tiny, 60-seater basement as the stars and only characters of a play none of us has ever heard of? Theatrical royalty, knights and dames, are, when sighted onstage, usually in major West End theatres, not hidden away beneath an Italian restaurant. All is revealed when you know that the play, All That Fall, is by the late great Samuel Beckett.

We thought we knew all the plays of Samuel Beckett. The deliberate silences, the darkness, the obscurity, the bleakness, the purposeful use of odd stage directions for his characters — a woman is buried up to her neck in sand, a couple live in garbage cans, a man trudges endlessly back and forth playing tapes of his own voice, a play using only a mouth — are all devices familiar to the intellectual theatregoer.

Sam Beckett — the playwright who makes Harold Pinter as clear as Noël Coward, and as funny — has a "new" play, new to us, that is. It was originally written for radio, still a thriving theatrical medium in Britain, and its author consistently refused to allow it to be staged. Even now the two actors are clutching scripts, making it clear that this is not a staging of the play but a staged reading, complete with fake microphones. Still, it is new and it is Beckett so the director, Sir Trevor Nunn, matches the celebrity of the stars.

The Jermyn Street Theatre is one of my favorite London theatres, and the only one I can think of where the audience can't go to the bathroom during the play because it is behind the stage and you'd have to cross the playing area to get to it. The Beckett estate is notoriously secretive and it's a coup for this tiny theatre to have been granted the rights.

*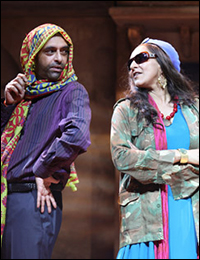 photo by Ellie Kurttz
One of the most interesting juxtapositions of Shakespeare I've seen in a while is the new West End Much Ado About Nothing (by Royal Shakespeare Company) reset from Italy to India and starring an all-Asian cast. In a country with a huge indigenous Indian community this makes perfect sense, especially when it stars our two best-known British-Indian actors, Meera Syal and Paul Bhattacharjee as Beatrice and Benedick. Even the sub-plot, that idiotic notion about virginity and betrayal between Hero and Don Carlo, makes sense when set in a community where virginity and honor are still important notions.
This Much Ado is colorful and intelligent. I just wish it hadn't come so hard on the heels of two other splendid productions of less than a year ago. You can have too much of a good thing.
I never feel old, never. If anything, I feel too young to cope with everything that's happening in our world. But this week I saw a tribute band show about the Beatles, Let It Be, and realized that I could sing every single lyric, knew every note, instantly recognized every song from the very first notes of the introduction.
Whether the performers in the show, an interchangeable group who look sort of like the Beatles, are any good or not doesn't matter. What does is that they brought my youth alive, a time when it was all ahead of me. The entire audience had grey hair and was on its feet throughout, singing, laughing, dancing. It is really fun and if you're the right age you'll love it. Would I go back to that time? No, but I was glad to revisit it for a couple of hours.