A Musical Exhibition: A Trio of Musicals by Ryan Scott Oliver Comes to Life at 54 Below's RSO FEST



Photo by Matthew Murphy
"When we [contemporary] musical theatre writers do our concerts, it really just makes it look like we don't write musicals and [that] we just write songs," Oliver told Playbill.com following the first two concerts in his series, 35mm and Darling. "I wanted to show people that I have written three full musicals. One of them is an exhibition piece, and the other two are book musicals. I wanted to work with collaborators and people who can really dig into the material."
The trio of concerts kicked off Oct. 7 with the much-anticipated New York City return of 35mm: A Musical Exhibition. The work, based on a series of photographs by Broadway photographer (and Oliver's fiancé) Matthew Murphy, premiered in New York in March 2012 with a sold-out run at the Galapagos Art Space starring Lindsay Mendez, Betsy Wolfe, Jay Armstrong Johnson, Ben Crawford and Alex Brightman.
This time, Oliver expanded his roster of stars to include Nick Blaemire, Drew Gasparini, Derek Klena, Zachary Levi, Lesli Margherita, Lauren Pritchard, David Reiser, Krysta Rodriguez, Preston Sadleir, Kate Shindle, Katie Thompson and Alysha Umphress, among others. Original 35 cast members Brightman and Crawford, on a night off from their current Broadway outing in Big Fish, were also in attendance.
Brightman, who followed an opening act that previewed Oliver's upcoming pieces, kicked off the show, taking the audience to "Crazytown," a mystically risqué place inspired by the lands of Wonderland, Oz, Narnia and Neverland. The sold-out crowd then witnessed the various photographs — displayed on screens across the intimate venue — come to life through Oliver's dark and twisted music and lyrics.
"Another reason I wanted to do this [was] to get to work with incredible vocalists who I haven't been able to work with," admitted Oliver. "There's definitely a handful of people who are 'oldies' [and] have done my work before, but then there's a bunch of new people that I've never gotten to work with, and that's been really, really, really fantastic."
One of the newcomers was Britney Coleman, who stepped in at the last minute when singer and actress Jenni Barber was sick and unable to perform. Oliver, suddenly in search of a replacement for "On Monday" — a song that takes listeners through a week's worth of the dating game — was recommended to Coleman, who performed the song in another recent concert, through YouTube.
Watch her performance at RSO FEST below:
Another performer new to Oliver's material was stage and television star Zachary Levi, who is currently making his Broadway debut in First Date. He was brought onto the project via his First Date co-star, Krysta Rodriguez, who has frequently performed Oliver's songs.
"Krysta was someone who — again, a performer I've worked with in the past — [said], 'Zach and I should do [the concert],' and I said, 'I would love that.' Krysta came back to me saying, 'Zach and I should do this. It makes perfect sense for us.'"
The song that the former "Smash" star referred to was "Make Me Happy," where a couple banters back and forth and bitches about their dysfunctional relationship — although they remain completely in love.
Watch their performance below:
A highlight of 35mm was Katie Thompson's performance of "Leave Luanne," a song that tells the story of a woman who must find the courage to leave her abusive partner. The composer and actress, who received acclaim for her performance in Off-Broadway's Giant, kept audience members on the edge of their seats and finished to a full-house standing ovation.
Watch her performance below: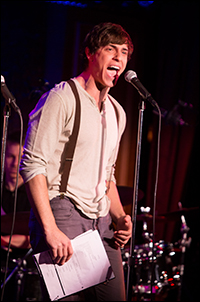 Photo by Matthew Murphy

Darling, the second musical in the series — and a project that was featured on NBC's "The Apprentice" in the "Broadway Bound" episode — followed 35mm and was held Nov. 4. The work features music and lyrics by Oliver with a book by actor and writer Brett Ryback, who currently stars in Off-Broadway's Murder For Two at New World Stages.

Unlike 35mm, the performers in Darling were cast for specific roles and played their parts throughout. The evening, a truncated version of the musical, featured scenes and partial staging to give the audience a feel for the work.

The musical, a coming-of-age story that is a riff on the classic Peter Pan tale, starred Pace University student Andrea Ross as Ursula Morgan, who is taken by a "Lost Boy," Peter (played by current Wicked star Derek Klena), to the seedy underground, a world of "sex, jazz and fairy dust."

The evening also featured Nikki Snelson, Leo Ash Evens and Julia Mattison, who stepped in for a sick Lindsay Mendez. Mattison, who was already scheduled to perform at the concert — in the show's opening act — took on Mendez's complete track and brought down the house with "Dull Little Ache."

"We sold out both of those shows completely, and that was fantastic," said Oliver. "The industry response has been so favorable and so kind… I've had four theatres that I've never been able to get a meeting with suddenly want to have meetings with me and talk about what I'm doing and what they can do for me. That's pretty exciting, and that's something I've definitely been waiting for. It's been a great opportunity for that. In terms of goals and my mission… I think it was accomplished."

Oliver, who will conclude RSO FEST Nov. 18 with Jasper in Deadland — a musical with a book by Hunter Foster that takes 16-year-old Jasper through the "Afterlife" on a mission to save his best friend, Agnes — plans to get his musicals out of the concert halls and into the theatre.

"Jasper is happening in March 2014 at Prospect [Theatre Company]," he said. "In Darling's case, that was about showcasing my work with a full orchestra and showing people that I'm not just a rock composer…"

Starring in the upcoming Jasper concerts at 54 Below are Hands on a Harbody's Jay Armstrong Johnson and Wicked's Katie Rose Clarke as well as Wesley Taylor, F. Michael Haynie, Tori Huston-Elem, John-Michael Lyles, Julia Mattison, Ryah Nixon, Lexi Rabadi and George Salazar.

"Up to this point, I think [the concert scene] really made my career anything it is," admitted Oliver. "It's not yet been about a production, so everything I have is owed to these concerts and the subsequent coverage. I'd like that to change, and I really want that to change. I hope it does, and I think it will in the next couple of years. I don't expect to do too many more concerts in the next couple of years. I'll come back and do them again, but I think it's time, for me, to really focus on production."

Click here to read more about the upcoming Jasper in Deadland concert.

(Playbill.com staff writer Michael Gioia's work appears in the news, feature and video sections of Playbill.com as well as in the pages of Playbill magazine. Follow him on Twitter at @PlaybillMichael.)

Watch Charles A. Franklin preview "Stroke by Stroke" from Jasper in Deadland: