Audra McDonald, One Night Only, at Avery Fisher Hall



Photo by Michael Wilson
The audience was visibly split, wardrobe-wise, between spiffed-and-bejeweled benefit participants and the typically casual public. The benefit—which encompassed cocktails, McDonald's concert, and a gala dinner in Damrosch Park catered by top restaurateurs—honored Lincoln Center President Reynold Levy, who is retiring after eleven years of visionary leadership and a recently-completed $1.2 billion redevelopment. McDonald personally and fondly addressed Levy, who was sitting in a side box, during the performance.
The event marked McDonald's first solo New York appearance since 2011, when she opened here in Porgy and Bess. The concert was built around selections from her forthcoming CD, also called "Go Back Home," which is due later this month. Most of the songs, though, were heard in McDonald's last concert at Carnegie Hall in the fall of 2011. No matter; to hear and watch McDonald at her best is an opportunity to be grasped and savored, even when—or especially when—she is singing the same songs.
MacDonald started with her rousing version of Cole Porter's "I Happen to Like New York" and one of her favorites, Jason Robert Brown's "Stars and the Moon." (The singer didn't apologize for singing this once more; she loves it, and said, "I'm going to be singing it till I'm ninety.") A strong supporter of contemporary theatre composers, she followed this with Marcy Heisler & Zina Goldrich's "Baltimore."
Then came the first of the nine or ten highlights of the evening, Irving Berlin's "Moonshine Lullaby." Some aficionados choose this as their favorite Annie Get Your Gun song, and McDonald's performance justifies their claim. She capped the song with an all-too-brief impression of Ethel Merman steamrolling the melody. She then told us that she called Sondheim to ask what she should sing; he suggested "Moments in the Woods," which the Baker's Wife sings after her tryst with the Prince, and it was as lovely as you'd imagine.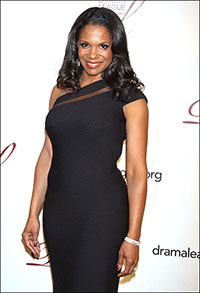 photo by Joseph Marzullo/WENN

McDonald then gave us "Summertime" (not the recent "improved" arrangement but something close to George Gershwin's original version) and it was truly glorious. (When will we get a concert evening of McDonald singing an evening of Porgy and Bess with the full orchestrations?) "Summertime" was an expected treasure; Bock & Harnick's "Gorgeous" (from The Apple Tree) was not, but McDonald turned this comically overwrought waltz into another showstopper. Kander & Ebb's "First You Dream" from Steel Pier was followed by Adam Guettel's "Migratory V" from Myths and Hymns. This last was performed with McDonald accompanying herself on the lone piano, in tribute to her father.

After which she cheered the fans with a rousing "Maybe This Time" from Cabaret, countered by a gentle rendition of "Whose Angry Little Man Are You?" from Raisin. (Composer Judd Woldin, who died in 2011, would have been overwhelmed hearing his song so impeccably sung at Avery Fisher Hall.) This was followed by two comedy songs from Gabriel Kahane's song cycle "Craigslistlieder."

The concert—announced at 75 minutes, but running 95—ended with a string of exquisite numbers. A majestic, full orchestra reading of "Go Back Home" from The Scottsboro Boys; Adam Gwon's stunning, 9/11-themed "I'll Be Here" from Ordinary Days; the Comden, Green & Styne standard "Make Someone Happy" from Do Re Mi; and—as Ms. McDonald's salute to marriage equality—"Some Days" with music by Steve Marzullo, set to a poem by James Baldwin.

The only negative was the sound system, at least in the section of the hall where this viewer was seated (in otherwise "good" seats). We could hear McDonald sing, but far too many words were lost. Given the abundant cameras and microphones in view, this shouldn't be a problem when the concert is telecast on "Live From Lincoln Center" May 24 (which, for McDonald fans, is required viewing).

As an encore (and pity the misguided patrons who fled up the aisle during the first standing ovation) McDonald gave us one of the songs that first announced just how unique a performer she is: Bock & Harnick's "When Did I Fall in Love?" (from Fiorello!). We've heard her sing it before, yes, but we'll gladly look forward to hearing it again and again.

PHOTO ARCHIVE: Five-Time Tony Award Winner Audra McDonald on Broadway