Both Sides Now: Bruce Norris Takes a Page From the Past for Clybourne Park


*
Playwright Lorraine Hansberry never won the Pulitzer Prize for her signature work, A Raisin in the Sun. But playwright Bruce Norris sort of won her the award by proxy.
In 2011 Norris collected the prize for his drama Clybourne Park, which borrows from Raisin a character and an uncomfortable social situation. The character — the most risible of those in the Hansberry drama, and the only white one — is Karl Lindner, a weasely figure who visits the African-American Younger household to convince them not to go through with their plans to move to the all-white neighborhood that he represents — Clybourne Park. In Norris' play, set in the house the Youngers have bought, we see how the white couple who sold it to them are petitioned by their neighbors to renege on the deal. The second act, set in 2009, upends the scenario. Clybourne Park is now all-black, and a white couple's plan to buy the same home raises the specter of gentrification and the social upheaval it frequently engenders.
Growing up in Texas, Norris may have been the only budding actor in America ever to dream of playing Karl Lindner. "It was because he was the white guy in the play," says Norris, who had a respectable name as a stage actor before making an even bigger splash as a writer. "And of course I'm living in an all-white neighborhood. Even at that age, I had minimal aspirations to being an actor. So I thought, 'Well, I could play that part.' I had the weird response of knowing the only person I could play was the antagonist."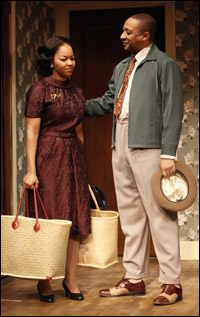 photo by Joan Marcus

Many years later, Norris began putting down the first words of what became Clybourne Park. Unlike many of his other scripts, which had been commissioned by Chicago's Steppenwolf Theatre, he pursued the play for his own pleasure. When it was complete, he mailed it off to both New York's Playwrights Horizons and Washington, DC's Woolly Mammoth Theatre Company. Both troupes elected to do it, almost simultaneously. It premiered at Playwrights Horizons in February 2010. (That production, directed by Pam MacKinnon, has been reconstituted and is now at Broadway's Walter Kerr Theatre.)

And then Norris began to experience something unusual — success. His earlier plays had enjoyed respectable reviews and respectable runs. But this was something different.

"When we did the play first at Playwrights, I was surprised it did well," says Norris. "When it did well at the Royal Court in London, I was dumbstruck. When it moved to the West End and it did well there, I thought, 'This is just preposterous.' Then the Pulitzer thing happened. Now I just throw up my hands."

Norris' reputation — as a writer and as a person — is as a bluntly spoken contrarian. Despite his background as a performer, being liked is not something he looks for or expects. "It actually feels strange, very strange to me," he says. "I've always judged the worth of the work I do based on how many people hate it. When people approve of something I do, it's deeply confusing for me. I have that adolescent need to piss people off."

Read about the original 1959 Broadway production of A Raisin in the Sun in the Playbill Vault.