Boyfriend, Sister and Mom: Meet Three of Broadway's Picnickers



Photo by Joseph Marzullo/WENN
*

Before life was a cabaret, it was a picnic, and the Pulitzer Prize-winning play illustrating that point was William Inge's amiable fable of small-town Midwesterners on holiday and the sexy stranger who saunters in one Labor Day, unsettling one and all, and makes off with the prettiest chick in the henhouse.

Director Joshua Logan, Lord of Broadway after his South Pacific and Mister Roberts triumphs, insisted Inge phrase the argument in the positive — to let the young lovers in Picnic have a chance. That was 1953. Maybe in future productions practical, less romantic theatre artists would find darkness that lurked beyond The End.

The 21st-century director Sam Gold is now helming a Broadway revival by Roundabout Theatre Company, at the American Airlines Theatre. The jury may still be out — is Picnic's ending hopeful or sad?

The drifter in sexual overdrive, Hal Carter, is played by Sebastian Stan ("Captain America: The First Avenger," "Political Animals"). His million-dollar baby from the five-and-ten-cent store, Madge Owens, is the tall-drink-of-water actress Maggie Grace (Shannon of TV's "Lost"). And the hometown boy left behind, Alan Seymour — Hal's fraternity pal and Madge's fiancé — is played by Ben Rappaport, a third Broadway newbie.

The original play opened 60 years ago — four days after Valentine's Day, not at all inappropriately some will argue. [Plot spoiler alert!] In the original cast, Janice Rule's Madge pulled up roots and raced after Ralph Meeker's Hal, leaving Paul Newman's good manners, good looks and gobs of money (as Alan) high and dry.

Rappaport, like Newman, is making his Broadway debut as Alan the Also-Ran — and could, like Newman, win a Theatre World Award. Three years after being cited one of 1953's most promising newcomers, Newman starred in "Somebody Up There Likes Me," playing son to Eileen Heckert, who got Picnic's other Theatre World Award as spinster Rosemary.

Because Picnic marked Newman's acting ascent (and Meeker's descent), it's now hard to fathom the choice that Madge made — ending up with hunky Hal rather than decent Alan. But Logan believed that Meeker, who already had Stanley Kowalski and Mister Roberts under his Broadway belt, "was made by God for Hal" and that "the Paul Newman I knew" was a long way from Superstar Paul Newman.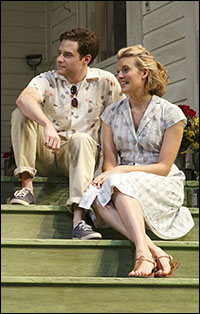 photo by Joan Marcus
Fact is, Logan originally hired Newman for the randy paperboy but upgraded him to Alan when the actor playing Alan proved dull. He did allow Newman to take over the lead when Meeker was indisposed for two weeks but wouldn't let him take the part on national tour "because you don't carry any sexual threat." That would change, fast.
Stage-and-screen-wise, Rappaport is already farther along than Newman was when he got to Broadway — plus, he's two years younger (26). After graduating from Juilliard, he gave Off-Broadway a whirl (Sex Lives of Our Parents at Second Stage and The Gingerbread House at Rattlestick), starred on a sitcom ("Outsourced") and film-debuted as the son of Tommy Lee Jones and Meryl Streep in "Hope Springs." "It's all about the balancing act," he says, "and I like doing it all."
The fact that Madge slightly towers over this pocket-sized actor is a plus for his performance. "I feel sometimes Alan can be seen as a foil for the Hal character. There's a tendency to think — because he's so well off and he's such a nice young man — he's going to be okay at the end, but I don't think that's the case. I think he has a deep obsession and idolization of Madge that he's fighting for the entire play. He's quite emasculated by the end of the play, so I think there's a lot there to suss out."
Immersing himself in the talent that populates Picnic has been an education for him. "Ellen Burstyn, for example," he says, plucking the most conspicuous name in the cast. "Going to work every day with her is like a master class in complete and utter presence. If you find yourself lost in a moment on stage, all you have to do is to look into her eyes and she brings you right back into the situation and the circumstances. That's a privilege by itself. Then, there're these other theatre actors as well — Reed Birney, Elizabeth Marvel, all of them. The days go so fast when you're having fun."