Douglas Hodge Talks About Playing Cyrano, a Romantic Who Thumbs His Nose to the World



Photo by Joseph Marzullo/WENN
*
"It's a perfect play — romantic, moving, tragic, funny — a perfect evening in the theatre," says Douglas Hodge of Cyrano de Bergerac, the 1897 Edmond Rostand masterpiece that opens at Broadway's American Airlines Theatre on Oct. 11. "Just phenomenal."
Based very loosely on the life of a minor nobleman born with a nose so large that he was repudiated by his own mother, Cyrano tells the story of a French officer who falls in love with Roxane, the most beautiful woman in Paris. Despite Cyrano's talents, Roxane can't see past his nose and instead falls in love with Christian, a handsome young cadet and Cyrano's inferior in every way. To add insult to injury, she begs Cyrano, knowing him to be a fine soldier and leader of men, to take care of her love when they are sent away to war. Not only does Cyrano agree, he becomes Christian's mouthpiece, writing Christian's letters to Roxane, making his declarations of love and pouring out his own feelings in the guise of Christian's.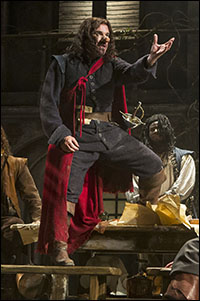 photo by Joan Marcus

Director Jamie Lloyd, who is making his Broadway debut with this production, relishes Cyrano. "This is more than a swashbuckler or a rom-com," he says, "which is how it has often been played. It's highly unusual in that it's not naturalistic, it's not high drama, not low comedy, not Ibsen, not boulevard — and yet it is all of those things. It's richer, and more intensely political. It's a great work of art. Rostand is a voice against the morally corrupt, against the establishment, for the underdog. His Cyrano, because of his disfigurement, can speak for people everywhere around the world who are trying to find their own voice.

"His disfigurement...allows him to say, 'This is what I am, this is what I think, without hiding, without spin.' With him, what you see is what you get; he can't put a spin on that. There is no hiding that nose. But each of us has some kind of nose, something about us we wish were different. We are in a strange place politically right now, where spin is crumbling and the voice of the individual on the street is being heard. This gives the play such resonance for our own time. It is exciting to let the audience decide how."

Hodge, who is playing the title role, adds: "In our culture, good looks are so important, and today he'd head straight for a plastic surgeon, but in Cyrano's time the nose was who he was, and it didn't matter that he was a brilliant poet, a brilliant swordsman, a brilliant man. His nose defined him. Inside, he longed to be like everybody else because then life would have been so much easier for him."