For Diehard Kristin Chenoweth Fans, City Center Concert Was the "Trill" of a Lifetime


Specifically, City Center was her home for a handful of memorable performances in the Encores! concert series, including Jerome Kern and Oscar Hammerstein II's Music in the Air and Alan Jay Lerner and Burton Lane's On a Clear Day You Can See Forever, as well as the newly constructed period revue created for Encores!, Stairway to Paradise.
But more generally, New York City itself is where Chenoweth's heart seems most at home — and she wore her heart on her sleeve Saturday, clearly moved by her homecoming. Chenoweth knew that she was destined for the city even back when she was growing up in Broken Arrow, OK, where she listened to Broadway cast albums while the other kids liked Madonna. She won a Tony Award here (for You're a Good Man, Charlie Brown) and was nominated for another (for playing Glinda in Wicked).
In honor of her first Broadway credit, 1997's Steel Pier, with a score by John Kander and Freb Ebb, she sang a rapacious "Maybe This Time," the grasping anthem from the film "Cabaret," early in the City Center concert (along with Kander and Ebb's breakout hit, "My Coloring Book").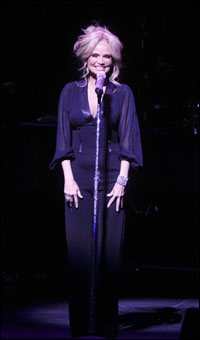 photo by Joseph Marzullo/WENN

Fans jumped to their feet throughout the concert by the 4-foot-11-inch star, who was joined on stage by singers Tyler Hanes (who also choreographed), Will Taylor and Chelsea Packard. On director Richard Jay-Alexander's watch, both acts flirted with Chenoweth's head voice (what was that piercing, thrilling note at the end of the Christian pop song "Upon This Rock"?) and her chest voice. Is there another American singer alive today that can sell the Leonard Bernstein coloratura classic "Glitter and Be Gay" and Dolly Parton's "I Will Always Love You"?

Fans of show music, especially the young ones who think musicals began with The Phantom of the Opera and Les Misérables, have an important teacher in Chenoweth: While she does sing crystalline versions of Andrew Lloyd Webber's "Wishing You Were Somehow Here Again" from Phantom and Boublil, Schönberg and Kretzmer's "Bring Him Home" from Les Miz, she also reminds us — with a gorgeous rendition of "All the Things You Are" — that Jerome Kern, the musical father of modern musicals, was first in line. It doesn't get any better.