From Hedda to Streetcar to Vanya: The Many Colors of Cate Blanchett



Photo by Lisa Tomasetti
*

Cate Blanchett is an enigmatic chameleon adept at crossing borders, adapting to the called-for international milieu and making herself right at home all over the globe.

All angular and incisive, she wafted through the life of Howard Hughes as the young Katharine Hepburn and, astonishingly, won an Academy Award for it. In 2006 — when Helen Mirren had all the award bases, from small screen to big, covered as Queen Elizabeth I and II — Blanchett still gave her a run for the Oscar gold and became the only actress ever to win a second Oscar nomination for playing the Tudor queen. She reigned over J.R.R. Tolkien's Middle-earth for the entire "Lord of the Rings" trilogy as the elf queen with the cascading yellow curls, Galadriel — and she's coming back for seconds via its two-part prequel, "The Hobbit," due out this December and next.

She was Irina Spalko to Harrison Ford's Indiana Jones, Marian to Russell Crowe's Robin Hood and one of six Bob Dylans (the Oscar-nominated one) in "I'm Not There."

Simply put, she is an artist without boundaries — geographical or, as it turns out, gender — someone who can play anyone anytime anywhere. This gift comes from a fiercely focused talent and, just perhaps, an eclectic gene pool. It may surprise you to know that, in addition to being half-Australian, she is half- Texan. Yep, Robert DeWitt Blanchett, Jr., her dad, was a U.S. Navy officer whose ship dropped anchor in the late '60s in Melbourne where his bride-to-be, June Gamble, was a property developer. They evidently, in the words of one of Hepburn's latter-day queens, "shattered the commandments on the spot," and provided Blanchett with a vivid and colorfully varied pedigree.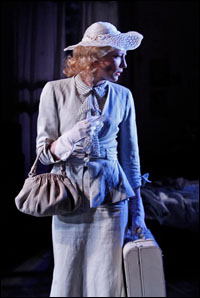 photo by Richard Termine
"Well, I had nothing to do with that," the actress admitted meekly over the phone from her home in Sydney, but she did like the idea of these two worlds colliding for her. "It does help when you're always pretending to be from some place else."
That trend will likely continue, at least in movies, for a spell. Woody Allen and Terrence Malick, who are poles apart as directors, snapped her up for their most recent "untitled projects" (Allen's is set in Manhattan, Malick's in Austin).
And Barbra Streisand is paging her for her next directorial effort, a bio film called "Skinny and Cat." It will examine the improbable, if not impossible, marriage (1939-1942) of Margaret Bourke-White, Life magazine's legendary Bronx-born photographer, and the Georgia cracker who wrote God's Little Acre and Tobacco Road, Erskine Caldwell (Colin Firth, sans his halting King's English, presumably).
These flick trips have been fast and furious for her ever since "Oscar and Lucinda" (1997). The two things that keep her anchored are centrally located Down Under: family and theatre. She and her husband, playwright Andrew Upton, are parents of three sons (and went to some trouble naming them: Ignatius Martin Upton, 4; Roman Robert Upton, 7; and Dashiell John Upton, 9). They're also, since 2009, artistic heads of the Sydney Theatre Company, but they are surrendering that co-title before 2013.
"You never really give it up, of course," she sighed helplessly. "I'll continue to act for the company. In fact, we just set our final season, and I'm going to be in one of the plays. I've been working with these actors so long there they're all like family now."