"Glee" Celebrates 100th Episode By Reuniting With Kristin Chenoweth, Gwyneth Paltrow, Dianna Agron and More



Photo by Adam Rose/FOX
*
It's the 100th episode of "Glee," and instead of a clip show, Ryan Murphy and his team of writers have given us something a little more original. Because the New Directions lost at Nationals (actually, they won Second Place, but that counts as a loss in Sue Sylvester's book), Sue is eliminating the Glee club in the current round of budget cuts. To mourn the loss of the group and close it out with a bang, Rachel, Kurt and Santana have come back to town from New York and other former members have come back from their various new lives in school or otherwise. With the whole original gang (plus all the new members) together at last, Mr. Schue assigns everyone to prepare a number New Directions has done in the past, but with a new twist.
Besides the overall loss of New Directions, the first mini-conflict set up is between Rachel and Mercedes. Rachel is currently in preparations to star in the Broadway revival of Funny Girl (and life imitating art, Murphy has acquired the rights to Funny Girl for a revival to star Lea Michele) and Mercedes, having signed a major record deal, is on the verge of pop stardom. They're both sad about New Directions, but happy to return victoriously to the scene of their high school triumphs and both a little miffed at the lack of fanfare for their comebacks. Simultaneously proclaiming, Norma Desmond-like, "I'm the biggest star this school has every produced," they both want "the Rachel chair" front and center in Glee club. Rachel gets it first, but her position remains seriously challenged.
Mr. Schue announces the song assignment and, promising not to repeat his past mistake of attempting hip hop, proceeds to demonstrate the idea (of reinventing a former New Directions performance) with the help of a special guest. Enter Kristin Chenoweth, back as down-and-out Broadway star April Rhodes, who joins him in a dynamic rendition of Pink's "Raise Your Glass." Of course, everyone sings and dances along, and you could almost forget the doom and gloom that hover in the air.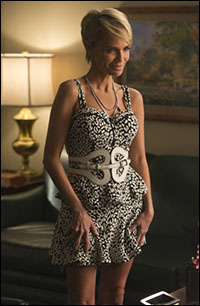 photo by Adam Rose/FOX

We're then introduced to the second mini-conflict of the episode. Puck, also back at McKinley High, appears to have cleaned up his act since his emotional acting out after Finn's death. He's in the Air Force and strutting down the halls of McKinley, looks handsome and together. His inner monologue tells us out loud that the past is dead to him, "except maybe just one thing," as the camera lands on Quinn. She's clearly happy to see Puck too, although he (and we) are quickly introduced to Quinn's boyfriend Biff McIntosh (played by Chace Crawford) who, as his name, indicates we learn (to the horror of Puck) is the kind of person who calls his mother, "Mother."

Conflict Three: Santana is unsatisfied by her life in New York (as Rachel's understudy in Funny Girl) and misses Brittany something awful. Brittany is so engrossed in her work at M.I.T. that she's even spending her time back at McKinley in the lab, working on a hypothesis, although she does remember fondly the time "when all I wanted to do was to scissor you and talk to my cat." Reminiscing, they perform, with Quinn, a scintillating trio of Britney Spears's "Toxic." Brittany beats herself up for being 1/16 of beat off in the choreography. She has no time for Santana, or anything. If there's anytime left over after her research, she should be spending it on her Internet talk show, "Fondue For Two."

Brittany's guests on "Fondue For Two" are Mercedes Jones and Rachel Berry. After hurling some not-so-subtle digs at each other, it comes out that they both plan to sing "Defying Gravity" for Mr. Schue's assignment. They agree on a "diva-off."