Harnick on Harnick



Photo by Joseph Marzullo/WENN
*
Sheldon Harnick, the Pulitzer Prize- and Tony Award-winning lyricist (with composer Jerry Bock) of Fiddler on the Roof, Fiorello!, She Loves Me, The Apple Tree and The Rothschilds, is appearing March 8-12 as a special guest of Tony nominee Kate Baldwin at Feinstein's at the Regency. The show is called She Loves Him, and it's Baldwin's musical tribute to the 86-year-old lyricist. Expect favorite tunes, plus early Harnick specialties.
It seemed a perfect time to sit down with the master lyricist. Mervyn Rothstein, Playbill's A Life in the Theatre columnist, recently talked to Harnick about everything from leading ladies to leading men, his favorite current musicals and his least-favorite current musicals, his views on the state of the art and his plans for his future in the theatre. (Harnick will also be the subject of Playbill magazine's A Life in the Theatre column in the coming months.)
Here is some of what Harnick had to say:
ON LEADING LADIES
Bea Arthur (Fiddler on the Roof): Bea was an extraordinary performer, an extraordinary comic presence. But when we hired her to do Yente, at all of her auditions (Jerry Robbins, the show's director, saw everybody three or four or five times), we always said she's wrong for this role — she's New York today, she's not Anatevka at the turn of the 20th century. Nevertheless, it was the strongest performance of anybody we saw. So Robbins said she's the one I want, and we hired her. And we told her there would be very little singing for her to do. But she became relentless. She used to follow me around the theatre and tell me about ideas, something that Yente could sing in this scene, or Yente could sing in that scene. So as much as I admired her as a performer, I began to dread seeing her, thinking I would have to fight her off again.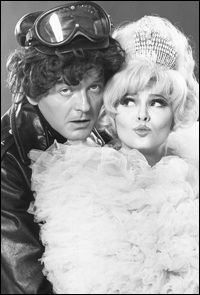 photo by Friedman-Abeles Photographers
Barbara Harris (The Apple Tree): Barbara was somebody one wanted to take care of. She was so fragile. Our director was Mike Nichols, and although all of us felt he was doing a superb job, it was his first musical, and he didn't trust himself, so at one point he called in Jerry Robbins. And Robbins said, "Can you keep this show out a couple more weeks?" And Nichols told him sadly, "We can't. If we do, we won't have a leading lady." And as a matter of fact, Barbara told the management that she might be losing her voice. So Jerry Bock and I went into the theatre to see what she was doing. And her singing was fine, but we saw that in one section of The Lady or the Tiger? part of the show she was screaming, because that's what the scene called for. And we went back and said, "Barbara, you don't have to scream, because the song covers everything." But once she got out on stage, she was so immersed in the role that if the character screamed, she would scream. And unfortunately the result was that by the time her contract expired, she no longer had a head voice, she only had a chest voice.
Barbara Cook (She Loves Me): Because of the nature of the shows [like The Music Man] that Barbara Cook had done before we worked together, I had this image of her as being this kind of sugar and spice ingénue. Jerry Bock and I played the score for her and she accepted immediately, and we were thrilled. And then she began to come to the auditions with us, and I would sit next to her, and I got a whole different picture of Barbara Cook. She was never mean, but she was always very candid in her opinions of the performers. And I thought, wow, this is a spunky lady. It was borne out through the years — she is absolutely candid. That's one of the things that she brings to her performance — she is absolutely honest in everything she does.
Jill Clayburgh (The Rothschilds): I had a crush on Jill. She was adorable. The only thing I remember about Jill though was that she had done Off-Broadway — she had never been in a long-running show. And she told us once, with this astonished look in her eyes, "I have to buy additional makeup."
LEADING MEN
Zero Mostel (Fiddler): Zero did me a huge favor. During rehearsals, when I watched "If I Were a Rich Man," I kept thinking, I wonder if the ending is suddenly too serious. Maybe I should keep the whole piece light and humorous, and change the ending. And he was part of that discussion, and he just stared at me and said, "If you do that, then you don't understand this man." He said the humor is just fine, but what Tevye is is the man who would give his soul to be able to "discuss the holy books with the learned men" and "have a seat by the eastern wall." That's the man. So I said O.K., and I didn't change it, and I'm awfully glad I didn't.
On the other hand, he did things onstage, he took liberties. Sometimes cast members would turn to give a line to him and find he was not where he was supposed to be. It made it very difficult. At one point, a theatre critic from a Kentucky newspaper came to New York, saw the show, went back and wrote a column that said this show is wonderful, but wait until Zero Mostel is out of it, because as funny as he is, he's distorting the scenes. And Harold Prince [the producer] composed a letter to Zero which couldn't have been more politic, and he had Joe Stein [the librettist] and Jerry Bock [the composer] and I read the letter, and we said yes, this is so delicate. And he sent it to Zero. What it said basically was that we understand that a man of your creative abilities gets tired of doing the exact same thing every night. All we ask is that when we feel that perhaps you've gone over the line we should be allowed to discuss it with you. He hit the ceiling. He said, "You don't tell me how to do this show." He was very difficult. But I must say that although some of the things he did bothered us, they never bothered the audience. They loved him no matter what he did.
Alan Alda (The Apple Tree): He is such a generous man and a wonderful performer. There are things in The Apple Tree which I didn't write which he just ad-libbed, and they went right into the script. What I didn't realize at the time was that he had the capability of being a very fine writer. I think he was happiest when he won awards for episodes of "M*A*S*H" that he had written.