How the Bonnie & Clyde Collaborators Took Aim at a Legendary Story
| | |
| --- | --- |
| | |
*

Bonnie Elizabeth Parker and Clyde Chestnut Barrow grew up in the same slums of West Dallas but never met till they were 20 years old. At 24, in 1934, with a dozen or so bank robberies under their belts and 13 notches on their guns, they were stopped in their tracks by The Law, which spray-painted their stolen Ford V8 with 130 rounds of hot lead.

They went out in a blaze of glory that keeps glorifying itself every few years. Director Arthur Penn opted to print the legend rather than the fact in his romanticized, myth-making 1967 film "Bonnie and Clyde." In that version, Warren Beatty, Faye Dunaway and Gene Hackman packed firearms, and an Oscar-winning Estelle Parsons waved a spatula.

Last year, what is believed to be the fifth musical version of the Barrow Gang crime spree started to workshop its way to the Great White Way, and on Dec. 1, one of that number at long last made it across the finish line and came to roost at Broadway's Gerald Schoenfeld Theatre.

This Bonnie & Clyde has music by the genre-jumping Frank Wildhorn (in his seventh Broadway outing) and lyrics by the Tony-winning Don Black (in his ninth — if you count his non-starter, The Little Prince and the Aviator, which abdicated in previews).

Neither had ever addressed this kind of bloody American folklore — a good thing, in the view of the British-born Black: "I always remember Jerry Herman saying when he was about to start a show that he wanted to write something he'd never written before. The idea of Bonnie & Clyde — the fact that they were from Texas and the flavor of the language that goes with that — was so fresh for me. Plus, I was raised on those old Warner Brothers gangster films with Edward G. Robinson and James Cagney."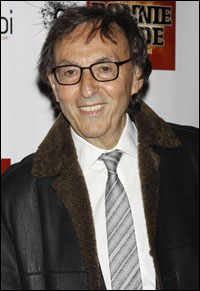 photo by Joseph Marzullo/WENN
John McDaniel, who arranged, orchestrated and musically supervised the 16-song score, characterizes the sound as "sorta country/folk/pop, with a throughline of that dusty East Texas thing." Wildhorn, a fan of the Texas rockabilly score that the pre-Annie Charles Strouse wrote for the "B&C" movie, concocted ditties in much the same flavor: "It's a combination of that Texas blues meets a little ragtime, a little jazz, a little Randy Newman — kind of a cousin to my Civil War score."
Whatever the mix, it didn't come easily or quickly, Wildhorn says with certainty. "You know how these things go — it starts, it stops, the development process takes as long as it does. Bonnie & Clyde actually started as a song cycle when I was at Atlantic Records — it must have been, like, 2001 or 2002. What happened was, Don Black and I started writing, and as we wrote, we realized what a wealth of material we had."
This prompted him, three songs along into the cycle, to forward the work on to director Jeff Calhoun, who decided Ivan Menchell would be the ideal book writer.
"It's my first big musical," Menchell admits sheepishly. "In 1990 I wrote a play called The Cemetery Club — about three Jewish women visiting their husbands' graves — so naturally, that somehow qualifies me to write Bonnie & Clyde."
In a strange way, it did. His fresh perspective caused him to hew a course opposite from the film, resulting, he thinks, in "probably the most truthful account of Bonnie and Clyde. In Act I, there's not a shot fired. You meet them when they're ten years old. You see the circumstances that brought them together — the inevitability of it all.
"I've always said, 'Poverty made Clyde a criminal. Prison made him a killer.' Most people don't know, for example, that the first man he killed was a man who brutally raped and beat him in jail. Right there, you have a very different understanding of who Clyde was. It wasn't just 'I'm going to start robbing and shooting people.'"