Imelda's Turn! Former First Lady of the Philippines Gets Her Own Musical in Here Lies Love



Photo by Joseph Moran
*

In the beginning was the concept album — like Evita, only Filipino. The three word phrase that Imelda Marcos wants on her tombstone, Here Lies Love, is also the name engraved on the deluxe double-CD, released on April 6, 2010, chronicling the meteoric rise and subsequent descent into infamy of the former First Lady of the Philippines.

Two years and three days later, it was announced that this unflattering, unforgiving portrayal by David Byrne and Fatboy Slim would be adapted into a fully immersive, 80-minute, 360-degree theatrical experience, helmed by rising and very busy young director Alex Timbers. Here Lies Love is now in previews for a run at The Public through May 19.

"I've been a fan of David's work for a long time — I mean, Talking Heads and beyond — and I had this relationship with Oskar Eustis at The Public through Bloody Bloody Andrew Jackson," explains Timbers. "While we were developing that show, Oskar brought me together with David and said, 'Do you have any ideas of how we might do this CD in three-dimension[s]?,' so I came in and pitched this project to David, and here we are."

Imelda Marcos' legendary obsession with shoes overshadows her political atrocities — Timbers quips that the show could be subtitled Many, Many Kinky Boots — and this musical is an attempt to balance the books in the public mind. "She did horrible things. It's definitely a condemnation of her, but I wouldn't say that the evening is without a certain level of irreverence or fun as well. It wouldn't be me — it wouldn't be David — if the politics didn't match the entertainment and spectacle value."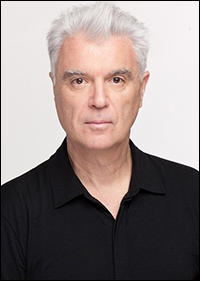 photo by Joseph Moran
Although Timbers was never in the Philippines, Byrne was. "David was interested in the politics of power, and, coming from a musical place, he had to theatricalize that. Henry Kissinger doesn't really sing to him. Imelda Marcos loved to visit Studio 54. She had a disco ball and a dance floor in her living room. She's the only world leader who comes with her own soundtrack. What will surprise people is that the score is all club music. It's not a musical theatre piece. We have love songs, though. We did a Williamstown workshop last year, and the new songs since then are two love songs.
"On a personal level, having worked with lots of musical theatre composers, I must say the thing that's amazing about David is that he wrote this incredible album and then rewrote so much of it for the stage. More and more, he writes for character, for situation. It's really cool. People have this conception that pop composers just come and drop off a score and don't really care what the theatrical needs are, but he's in there every day, and every day the songs get better and better. It's really exciting."