In Jeff Talbott's The Submission, Meet Theatre People Behaving Badly



Photo by Stephen Kunken
*

The Submission kicks up a helluvah hullabaloo over ethnic authorship, arguably unequaled since Esteban Rio Nido claimed credit for the lyrics to "The Boy From," a song in composer Mary Rodgers' 1966 The Mad Show Off-Broadway. Nido, you might remember, later confessed he was really Stephen Sondheim.

Similarly, Jeff Talbott — in his playwriting debut, which world-premieres Sept. 27 (after previews from Sept. 8) in an MCC Theater production at the Lucille Lortel Theatre — creates a controversial comedy by telling a little black lie.

At the center of this particular crisis-of-credit is a stage play that has been accepted for a prestigious theatre festival — a gritty ghetto drama about an alcoholic African-American and her cardsharp son. The male author happens to be as Caucasian as they come — Danny Larsen (Jonathan Groff) — and a bit guilty about that, enough to use the name of Shaleeha G'ntamobi, a figment of his affirmative-action imagination.

What's the sin of a pseudonym? Talbott slips that seemingly innocent little question under a microscope and comes up with some darkly comic and dramatic findings.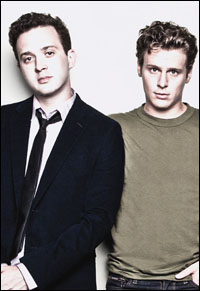 photo by Thom Kaine
"The idea itself came out of a conversation with a friend of mine," Talbott recalls. "In writing it, I remembered an argument I had in grad school, and that became one of the play's first moments of conflict. It was an argument about how we talk to each other, but it was also an argument about 'If I am able to empathize with your pain — things that happened in your life because of circumstances in mine — doesn't that give me a right to tell your story?' Danny Larsen makes an ethically wobbly decision to promote his play, and my play is about the consequences of that decision."
Issues are batted about the court by a cast of four, like mixed doubles. In addition to Danny, we have his boyfriend (Eddie Kaye Thomas), his best friend (Will Rogers) and a newcomer to the group who helps perpetuate Danny's lie (Rutina Wesley).
"I can't believe the cast I have," crows the contented director, Walter Bobbie. "Every one of them a powerful actor, and there are no small parts. It's really a four-hander.
"I just read the play and loved it immediately. I had no questions about its integrity or challenges. It's funny, yet it gingerly, effort-lessly, steps into thematic issues and political issues and identity issues that are perhaps toxic, perhaps dangerous and certainly creates some tensions. The result is a surprising comedy with real teeth."
A few seasons beyond his Tony-nominated Spring Awakening, Groff still retains an aura of idealism that puts up a good argument with Danny's actions.
"Flawed characters are the most fun to play — the most real and most true — so I was really pumped to come into this," he relays. "Danny is an imperfect person, and I was drawn to him because of that. This play pushes hot buttons about race and gender."