Jane Alexander Is Back on the New York Stage, by Way of Dubuque


*
During her turbulent four-year tenure as chairman of the National Endowment for the Arts in the '90s, Jane Alexander lived in a Washington, DC, apartment building next door to the then-attorney general of the United States, Janet Reno. Of all things, Reno turned out to be a theatre buff, so when Edward Albee's Pulitzer Prize-winning Three Tall Women played the Kennedy Center, the actress invited the attorney general and her niece, Hunter Reno, to see it with her. Both Renos towered to at least six feet, and Alexander herself came in at 5-feet-10-inhces in heels, so when they went backstage after the play — a phalanx of three making their way down the long red carpet at the back of the theatre — Albee popped up and cheerfully inquired, "Is this my new cast?"
Jane Alexander was never too short for that gesture. Indeed, she has long considered herself an Albee woman, but only now does she have a chance to confirm that when she officially checks in as The Lady From Dubuque in the inaugural production of the End Stage Theatre at the newly-christened Pershing Square Signature Center on West 42nd Strteet, home of Signature Theatre Company.
She arrives — after some raucous, booze-fueled fun 'n' games at the New England home of Sam (Michael Hayden) and Jo (Laila Robins) — at the tail end of Act One, an elegantly attired enigma with an African-American escort (Peter Francis James). Either she is the Angel of Death heralding the imminent departure of Jo, or she is Jo's mother helping with that passage. Why she is beaming so serenely, you must decide.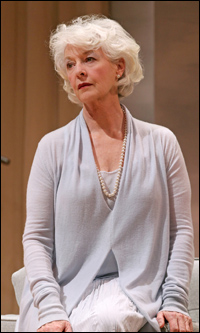 photo by Joan Marcus

The unanswered Albee is attractive to Alexander. "In many respects, I'm an Albee woman," she insists. "It just never happened. I never even did a reading of an Albee play. I always feel I can do his women when I see them, the way I always feel I can do O'Neill's women. O'Neill and Albee — not so much Miller or Tennessee. I've been offered Blanche, and I always turned it down because I don't see myself as Blanche."

Outside theatre, the lives of Alexander and Albee continually crisscross. "We've often found ourselves sitting next to each other at dinners. He was enormously helpful to me with the president and people in Congress during those terrible years between '93 and '97 when Newt Gingrich tried to eliminate the NEA. Edward was right out there, talking directly to Clinton about helping the NEA and saving us."

It was in Washington that Alexander's star started rising as an actress, via a 1967 Arena Stage production of The Great White Hope directed by her now-husband, Edwin Sherin. She and James Earl Jones won Tonys when it transferred to Broadway and Oscar nominations when it turned to film. (It was her debut at both stops.)

Smart and sexy, she makes a perfect foil and has been team-playing on Broadway ever since: in 6 Rms Riv Vu opposite Jerry Orbach, as a dying Joy Davidman to Nigel Hawthorne's Tony-winning C.S. Lewis in Shadowlands, and with Henry Fonda as a fellow Supreme Court justice in First Monday in October.