John Patrick Shanley Goes Back to Bronx Roots for Storefront Church



Photo by Aubrey Reuben
*

The maverick choir boy rides yet again in Storefront Church, the concluding chapter in what John Patrick Shanley calls his "Church and State Trilogy." Following Doubt (2004) and Defiance (2006), Church opens June 11 in what still looks like a church but is — even after an $8.3 million facelift — the Atlantic Theater Company's Linda Gross Theater.

At 61, Shanley is still a brooding natural product of his upbringing, which consists in equal measure of Roman Catholic schooling, Marine Corps training and Bronx street smarts. The combination makes him keen on confrontations, and in his best works, he likes to call out authority figures and test their mettle with moral issues.

Doubt, which won him a Pulitzer Prize, a Tony, a Golden Globe and an Oscar nomination (for his screen adaptation), pits a merciless Mother Superior against a priest she suspects of pedophilia. In both mediums, the case was argued so even-handedly it produced equally divided "hung audiences." Now, Doubt will linger on as an opera, mystifying a new medium; with music by Douglas Cuomo and text by Shanley, it premieres in 2013 at the Minnesota Opera.

Defiance takes place on a Marine camp in the Carolinas where the crisis of conscience falls to a black officer who learns the base commander who promoted him because of race had a liaison with a private's wife.

Shanley has now capped his trilogy with Storefront Church (née Sleeping Demon), drawing a line in the sand between a Bronx borough president and a guy who starts a storefront church.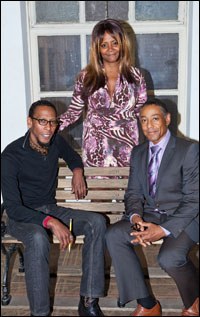 photo by Kevin Thomas Garcia
"It involves a mortgage crisis and — more directly, really — a spiritual crisis of which the borough president and the minister are two sides," the playwright relates, "and this, I think, will bring the play to the conclusion that I would have hoped for."
This play came to him while walking around the old neighborhood. "I kept seeing these storefront churches," he recalls. "I thought it's just such an interesting idea to take a candy store or a laundromat and say, 'Okay, this is going to be a church, and I'm going to name it whatever the heck I think a church should be named, and I'm going to preach whatever I think this church should espouse and hope to get some parishioners and make a go of it.'
"What an interesting thing! It's sorta the basic building block of religion. Rather than people who attend major faiths, this is the place — the primal soup — of organized religion. I thought the original impulse — the need for spirituality and community that this represents — was exactly the kind of thing that I wanted to talk about."
And, as is his wont, he'll do the talking himself. "I asked a few guys about directing it — Joe Mantello, among others — but they weren't free," he says. "Then, finally, at a certain point, I realized that I was probably the best guy for the job." Not that director Shanley is particularly easy on scripter Shanley. "When I'm directing my own thing, I kinda resent the writer — like, 'Why did he take so long to say that?'"