Katie Holmes and Norbert Leo Butz Talk About the Sibling Revelry of Dead Accounts



Photo by Robert Ashcroft
*

The paparazzi have departed. Their dust has settled in Sardi's fourth-floor Eugenia Room, revealing the last two remaining stars of Dead Accounts. At the only table in the room sit Katie Holmes and Norbert Leo Butz, betraying a little relief to be down to the select one-on-one interviews.

Being the last of the Mohicans, I am greeted by Holmes like a light at the end of the tunnel. She has just run the gauntlet of a packed theatre junket, and she has done it with Butz, her top-billed big brother in the play, by her side, assuring that the reporters and television interviewers stick to the subject (the play) and not stray into questions untowardly TMZ-ish.

She is the second wife Tom Cruise has brought to Broadway — and the first to come back for seconds, Cruiseless — and she's plainly pleased nobody flirted with that fact.

"What I was shocked by, just because I didn't know about it when I did All My Sons here, was how warm the Broadway community is," she says. "Everyone is so supportive on Broadway — we send notes to shows on their opening nights, that sort of thing — and I felt this warmth in the room today. I think it's really fun to be here.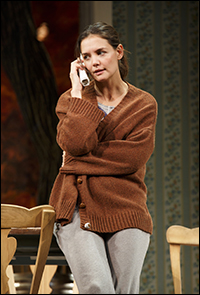 photo by Joan Marcus
"This is such a gift — a wonderful play, cast, director — it's what I've been wanting. It's overwhelming — but in a good way. There are a lot of ideas, a lot of energy, coming at you, and it's important it's coming at you. You're not quite ready to put it back out there, but you know it's sinking in. You address the play, get comfortable, share your heart and" — laughing at her vulnerability — "hope nobody stomps on it."
In truth, the gods of theatre have been pretty good to Holmes, manning her Main Stem second venture with Midwesterners like the author (Theresa Rebeck) and the director (Jack O'Brien).
In Dead Accounts, Butz is a prodigal who returns home, flush with money but without his wife (Judy Greer), worrying his mom (Jayne Houdyshell) and a local friend (Josh Hamilton).
Rebeck tried out Dead Accounts — currently playing at the Music Box Theatre — in her own backyard of Cincinnati, then gave it to O'Brien for an informal reading in New York. Butz starred, seeing as how he won both his Tonys under the directorship of O'Brien (Dirty Rotten Scoundrels and Catch Me If You Can). "I loved the play, I really did," the actor admits. "It's about a big, noisy, complicated Midwestern family — Catholic, which is my story — and it's so full of true warmth and sentiment, without becoming sentimental. Theresa Rebeck is a writer who really loves her characters and writes them with tremendous depth and care.
"When Katie found the play, it was a go, and I got the call: Was I interested? Heck, yeah! This is a fantastic part — and a great relationship we get to explore on stage."