King Lear: Sam Waterston's Shakespearean Everest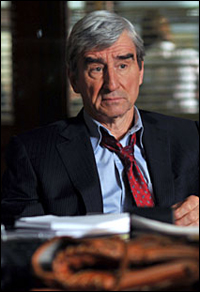 NBC

Such serious, soul-searching work in Shakespeare probably surprises most people, who know Waterston as District Attorney Jack McCoy of TV's "Law & Order," even-handedly manipulating the scales of justice in prosecuting culprits in the "Law" part of the program.

For 20 years, "New York actor" was defined and validated via guest shots on "Law & Order." "I used to call it the Café de la Paix of show business," he remembers. "They used to say about the Café de la Paix [that] if you sat there long enough, the whole world would pass by, and that's the way I felt working on that show. So many wonderful, wonderful, wonderful actors dropped by and did astonishing things."

For 16 years, his Jack McCoy was one of the anchoring pillars around whom they danced — the second-longest tenured character on the series (after S. Epatha Merkerson's Lt. Anita Van Buren) — and his streak of 333 uninterrupted appearances is the longest run of a character appearing in consecutive episodes.

Turns out there is life after Lear, and it's "More As This Story Develops," a new HBO series created by Aaron Sorkin ("The West Wing," "The Social Network") and co-starring Jeff Daniels and Emily Mortimer. "I play the head of the news division of a cable network. Aaron has written a complicated, loopy, high-minded, funny, terrific character." Just think of it as Lear in a business suit, pushing buttons.

*

Read the recent Playbill.com feature about American clown Bill Irwin, who plays King Lear's Fool at The Public Theater.