Laurie Metcalf, a Creature of the Stage, Returns to the Mystery of The Other Place, Now on Broadway



Photo by Joseph Marzullo/WENN
*

Laurie Metcalf is doing this interview from a hospital room; but Metcalf, who is getting ready to star on Broadway as a biophysicist confronting a possible medical crisis in The Other Place, is not doing research for her role. "I'm learning to flush out an IV," she explains by way of greeting.

Her 12-year-old son was recovering from appendicitis and Metcalf and ex-husband Matt Roth were learning the process before taking him home. Metcalf admits that she feels some guilt flying off to New York while he recovers but says most of the time her theatre career is a perk for her three kids with Roth.

"They're able to stay in Los Angeles with their dad but when they come to see me in New York or Chicago or London, it's the best vacation," she says. In New York this time around there will be even more family, since Metcalf's onstage daughter is being played by her actual daughter — Zoe Perry (from first husband Jeff Perry). "I have my days free and we get to see these great cities, and they love hanging around the theatre."

No one in the family loves hanging around the theatre more than Metcalf herself. She recently had recurring roles in television series like "Desperate Housewives" and "The Big Bang Theory," and she returned as the voice of Andy's mom in the animated film "Toy Story 3," but she has really spent most of her time and energy over the last five years on stage, since her Tony-nominated performance in David Mamet's November.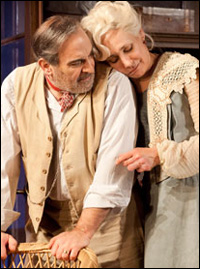 photo by Johan Persson
"I work kind of backward — I never thought I'd end up living in L.A. — so now I'm always traveling to do theatre," she says. She ended up in L.A., of course, because of the role that made her famous, playing Roseanne's sister Jackie on "Roseanne," for which she won three Emmys and was nominated for four more (plus two Golden Globes).
She was nominated this past November for a London Evening Standard Award for her work as Mary Tyrone in Long Day's Journey Into Night, and she won an Obie and a Lucille Lortel Award last year for the Off-Broadway production of The Other Place. Playwright Sharr White was struck by how Metcalf is both so technically proficient and emotionally available, a combination that gave her the ability to "draw the audience in to her," which her character, Juliana, needs to do immediately. "I was just blown away," White says.
The previous year she also won an Obie for Ethan Hawke's superb revival of Sam Shepard's A Lie of the Mind. In 2010 the Illinois native also returned to Chicago's famed Steppenwolf Theatre Company for the first time in six years. She was part of the group's original ensemble — which included founders Gary Sinise, Terry Kinney and Perry, plus John Malkovich. She had appeared in 29 productions there from its start in 1976 to 1990, but only got back for another seven shows between 1991 and 2010, when she co-starred in the hit Detroit — all told, Metcalf has won seven Jeff Awards, Chicago's Tony equivalent.