Mary Louise Wilson: Older, Wiser and Loving It, in Off-Broadway's 4000 Miles



Photo by Aubrey Reuben
*

It says something about the art and range of Mary Louise Wilson that her best-known performances are fashion statements that couldn't be more contradictory.

At one extreme, in the one-person show she wrote with Mark Hampton called Full Gallop, she's Diana Vreeland, the high-priestess of high-fashion who dictated and defined style for three decades by editing first Harper's Bazaar and then Vogue. That won her a Drama Desk Award. The Tony came a decade later as the Edith Bouvier Beale of Grey Gardens, a highborn society-type in an advance state of disarray but oddly oblivious to the squalor to which she has sunk.

4000 Miles is another measure, a new play by Amy Herzog at The Duke on 42nd Street as part of the LCT3 initiative of Lincoln Center Theater. The veteran actress (who will turn 79 in November) and a trio of twentysomethings are directed by Daniel Aukin.

Here, she is a Granny-was-a-Commie mixed-bag, interacting with a 21-year-old grandson (Gabriel Ebert), who has dragged himself to her West Village doorstep — presumably, the aforementioned 4000 miles — for much-needed R&R after a cross-country bike trip has cost him his best friend's life. The ensuing play is about both generations of outsiders, 70 years apart, finding their ways in today's world.

"The character's based on the author's grandmother," relays Wilson. "It was obvious to me this a real person when I read it. Amy's grandmother is 92 and doing fine.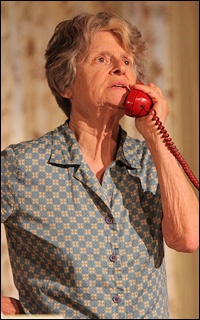 photo by Erin Baiano

"I find now that I'm older I'm very conscious of ageism — y'know, being treated as an old person. I notice when I get on the subway these days, right away I get a seat — and I don't turn it down anymore. I just take it. That's how society is, but this is a woman who is old and mad, and I identify with that. It's great to play someone who isn't a cliché. I thought a lot about how old I should be — whether I should affect more age — and I was told, 'Don't worry about it.' I do try to let myself slump."

A card-carrying old firebrand flickers persistently from the evidence here at hand in 4000 Miles, and from that in After the Revolution, Herzog's related gathering of old lefties at Playwrights Horizons last November. "Lois Smith played the same character I do, Vera, the grandmother, in that one, and I thought this might interfere with my doing it — seeing another actress do it another way," she notes, but Smith was otherwise occupied four blocks west on 42nd at Signature Theatre in The Illusion, playing the weary sorcerer Alcandre (a role once done in New York by Rocco Sisto).

Initially, Wilson entertained the notion of basing Vera on a real-life radical, but opted not to. "I thought about that and decided against it. I was in college when the blacklisting was going on, and, being fairly political, I was properly incensed. Now I've even learned to understand Elia Kazan, and his position. He was such an artist."

That line leads to an appreciative riff on the Kazan film "Baby Doll," with which she recently caught up. It came to market in 1956 all hot and bothered, with steam overcoming its comedy, but the temperature has dropped in time to reveal a kind of classic to her. No longer just about a thumb-sucking, virginal child-bride, "it's stylized in a way that's just great."