ON THE RECORD: Lysistrata Jones and the Collected Songs of Victor Herbert


*
Lysistrata Jones [Broadway Records]
Douglas Carter Beane and Lewis Flinn's Lysistrata Jones opened on a Greenwich Village basketball court last June and revealed itself to be a wryly sly jolt of Aristophanes masquerading as a low-grade high school — or rather, college — musical. Capital fun, I thought, hitting enough demographics to possibly make it on a larger scale. A group of bravely hardy — or perhaps foolhardy — producers went the next step, propelling this retelling of a Lysistrata-led strike against sexual favors to Broadway.
Lysistrata Jones had just as much going for it at the Walter Kerr, but long before the opening the show revealed its Achilles' heel (if a musical can be said to have an Achilles' heel). Audiences at large did not want to see it, it seems; not at all. Long before reviews or word of mouth began to circulate, business was at starvation level. The Off-Broadway engagement enjoyed good reviews, great word-of-mouth, and sellout business. Uptown, simply put, nobody was interested in buying tickets. Lysistrata had a mixed reaction during previews; some people liked it, some not. The reviews — at least some important ones — were quite good, with critics repeating their praise from downtown.
But Lysistrata Jones was doomed. For whatever reason, Broadway was inhospitable. I suppose that "Lysistrata" — as a word — was poison. Educated audiences either didn't want a contemporary Lysistrata or didn't want any Lysistrata at all. Undereducated audiences didn't want a play whose title they didn't understand, couldn't pronounce, or both. Lizzie Jones would have worked just as well, or better; Lizzie Jones: The Hot Musical with a picture of the leading lady in an oversized basketball jersey. That might sell tickets. Certainly, nothing the uptown producers could do got them past ticketbuyer resistance.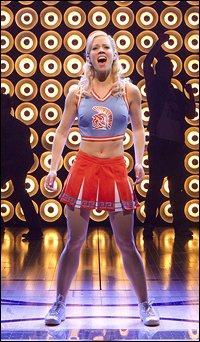 photo by Joan Marcus

Which was disheartening. Lysistrata Jones is a sweet little show, witty, clever and enjoyably unpretentious. A great musical it is not; but then, there are long-running hits presently on the boards that neither you nor I would classify as great. Lysistrata Jones did what it set out to do, and did so in an entertaining manner. I would say it is a shame that it didn't run longer, but it really couldn't run longer. It was the right show, I suppose, in the wrong place at the wrong time.

The right place should prove to be the regional, stock and amateur circuit — college groups, especially. This makes the new original cast album all the more welcome. Without a CD, a flop is a flop and unlikely to amass a string of productions. Give producers and directors across the country the script and a copy of the CD, and they are likely to say — we can do well with this! And hopefully so; Lysistrata Jones is a lot better than its adventures last December indicate.

Let me add that the songs by Lewis Flinn are perky but not what I would call distinguished. Workable enough, by my standards. The CD brings us the energetic cast, and reminds me how much I liked Patti Murin and Jason Tam as the head cheerleader — AKA Lysistrata — and a blogger named Xander. There are also refreshing performances from Josh Segarra as the basketball star and Lindsay Nicole Chambers as a poetry-slamming book nerd. And lots of energy from the cast of 12.

No, we can't call Lysistrata Jones a Broadway success, but it is a musical worth knowing, and one that should please audiences across the country just like it did when it was a sold-out hit downtown last June.

Visit PlaybillStore.com to view theatre-related recordings for sale.