ON THE RECORD: Maury Yeston's Death Takes a Holiday and the London Album of Styne, Comden and Green's Do Re Mi


*

Death Takes a Holiday [PS Classics PS-1104]
Maury Yeston has given us a liltingly romantic and lovely operetta-like score in Death Takes a Holiday, the new musical which opened July 21 at the Roundabout Theatre Company's Laura Pels Theatre. I can already hear some readers questioning, "And what show did he see?" Hence, I feel the need to qualify my opening statement. The cast recording of Death Takes a Holiday, just released by PS Classics, is liltingly romantic and lovely. In the theatre, though, you might not have been able to tell.

There are any number of reasons why the same score sung by the same singers (in this case, minus one) using the same pit orchestra might come across as significantly different to the listener. This can be demonstrated by any number of examples; two musicals immediately spring to mind, The Grass Harp and Mack & Mabel. It is hard, based on one in-theatre viewing, to pinpoint just what was wrong with Death Takes a Holiday. I suppose the trouble started with the choice of source material, and continued with the treatment of the source material.

The Roundabout production didn't generate any interest, for me at least, in its opening scene which revealed seven actors making believe they were in a car, speeding over a treacherous mountain pass. Or in the second scene, when they arrived at a grand villa. Or in the third scene, by which point all was lost. This makes a score — even a liltingly lovely one — impossible to absorb.

Can Death Takes a Holiday be improved in future productions? I suppose so. And I do hope so, because Mr. Yeston's score deserves future life. The show had a long and troubled genesis; Yeston and librettist Peter Stone started work in 1997, just after shepherding their Titanic to a Tony Award-winning reception. After several starts and stops and Stone's death in 2003, Tom Meehan (of Annie and The Producers) stepped in to work with Yeston. Book and score do not complement each other, at least not as presented at the Pels.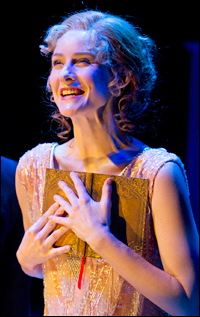 photo by Joan Marcus
As for Yeston, he came out of nowhere — or Yale University, actually — in 1982 with the astonishing Nine. Death Takes a Holiday marks only his third complete musical to arrive hereabouts in almost 30 years, which is not nearly as much Yeston as we'd like to hear. Three-and-a-half shows, really; he stepped in to fix Grand Hotel during its 1989 tryout, contributing half the score. The stronger and more effective half, not surprisingly.
Yeston wrote yet another full-scale musical, one with a pretty good score, but it remains something of a Broadway orphan; unfortunately, some Brit composer simultaneously chose to musicalize the same public domain source material. Yeston's Phantom, with a book by Arthur Kopit (of Nine), was relegated to regional and stock productions (and a cast recording). Along the way it achieved a fair measure of success, although nothing to compare with Lloyd Webber's Phantom of the Opera. The latter has now rolled past the quarter-century mark on Broadway, which leaves Yeston's Phantom — despite a more pleasing score — unlikely to get a local hearing.
Yeston has been active these past 30 years in other musical areas, mind you, and contentedly so; further, one can see how Nine and Titanic makes an impressive enough resume for anyone. Still, many of us would be mighty glad if there were another two or three Yeston musicals in circulation.
Which takes us back to the cast recording of the Roundabout production of Death Takes a Holiday, which sounds infinitely more effective than it did at the Pels. Yeston demonstrates a Continental flair, liberally tossing around lovely melodies. The score is in more than several places reminiscent of Phantom, and why shouldn't it be? All to the good, as far as I'm concerned. There is also a shimmy number, of all things, which seems plucked from Grand Hotel, plus a trio built on what sounds like the waters of Yeston's Grand Canal. (Death Takes a Holiday takes place just outside Venice, after all.) All these musical memories, as far as I'm concerned, are not minuses but distinct plusses.
The cast is led by Kevin Earley, with an asterisk. In an unlikely and unusual occurrence, Julian Ovenden — in the title role, which is to say Death — suffered a severe case of laryngitis (or apparently something more serious). This forced him out of the show two days before the opening. Earley performed as understudy on opening night; when Ovenden withdrew altogether, Earley was promoted to the role.
Due to the manner in which critics are invited to review shows, Ovenden performed at four of the five official critics' previews. (None of the major critics cover opening night performances nowadays, as they need to submit their review in time for the next day's paper and/or posting.) Ovenden was remarkably good in Death Takes a Holiday, receiving an assortment of personal raves; "here's someone who can play Billy Bigelow," I wrote in my review. The general consensus was that Ovenden was the main reason to rush to the Pels to see the show. But by that point, the star was never to return. (Ovenden did return for one performance, but was unable to get through the first act.)
How was Earley? Can't say, not having seen him. He sounds fine on the cast album, but doesn't provide the extra-special magic that Ovenden did the night I saw him. (And yes, it can indeed come across on a recording; for a demonstration, go listen to Drake and Kiley in Kismet.) This is not, I suppose, exactly fair to Earley — comparing him to someone whose performance has vanished. But listening to the cast album, I do seem to keep remembering how good Ovenden was.
The entire show— not only on the CD but in the theatre — was lifted by the presence of a fine group of singing actors. Jill Paice (Curtains) played the romantic lead, and she was perfectly fine. Unfortunately, she was overshadowed by the presence of Rebecca Luker, playing her mother. Luker is so good just about every time she steps on the stage that at least some viewers found themselves confusedly hoping that Luker would sing the next big romantic ballad. (Her second act solo, "Losing Roberto," was the high point of the show at the Pels.) Michael Siberry, Mara Davi, Linda Balgord, Simon Jones, Don Stephenson, Max von Essen and Matt Cavenaugh all contribute to the pleasures of the recording.
Yeston is especially well served by orchestrator Larry Hochman. Sure, we'd like to hear this score with 20 or 25 pieces, but Hochman — restricted to an expensive-for-Off-Broadway 13 — somehow makes it sound lushly rich. Praise also goes to Kevin Stites, Yeston's musical director from Titanic.
Death Takes a Holiday had a good deal in common, musically and texturally, with The Light in the Piazza. But in the case of the Adam Guettel musical, director Bartlett Sher and producers Andre Bishop and Bernard Gersten found a way to make it all mystically magical. Death Takes a Holiday, at the Roundabout at least, was flat and unengaging.