ON THE RECORD: Rodgers & Hammerstein's Pipe Dream From Encores!, and Laura Osnes Live


*

Pipe Dream [Ghostlight 8-4463]
The most resoundingly-failed musical within the nine-show collaboration of the Messrs. Rodgers & Hammerstein was their 1955 effort, Pipe Dream. The boys had two other washouts, Allegro in 1947 and Me and Juliet in 1953. But Allegro was artistically intriguing, although the thing didn't work; and Me and Juliet — their most ordinary show, certainly — managed to turn a profit. Pipe Dream was a complete flop, despite an enormous-for-the-time advance sale that allowed them to keep afloat for seven months.

Nobody seemed pleased with anything about the show, apparently including the authors. While Broadway writers often spend considerable energy trying to figure out how to fix flops they loved — as Hammerstein did with Allegro — it seems that the boys were glad to put Pipe Dream behind them. An original cast album was quickly recorded and released, and forgotten. And quickly deleted, as well. (Having in our last column discussed the truncated and inexpertly recorded original 1971 cast album of Follies, let me say that Pipe Dream was really truncated and inexpertly recorded.)

It has always seemed to me, though — on the basis of the somewhat abridged, published vocal score — that Pipe Dream would sound a whole lot better to us if we could actually hear it. Hammerstein was not at his best on the occasion, certainly, but the music on the piano rack shows Rodgers in one of his most adventurous moods.

This despite all sorts of problems, not the least of which was the composer's hospitalization — the first day of rehearsals — to remove a cancerous section of his jaw. But Pipe Dream seems to have been troubled from the start. The property was a stretch for Hammerstein, who was more accustomed to writing about raindrops on roses and whiskers on kittens than ladies lounging in "the happiest house on the block." Yes, this was a tale of the down-and-out, via John Steinbeck. The hero was a marine biologist, pulling starfish out of the tide pool. The leading lady was a wanderer who finds shelter at, yes, the happiest house on the block. Just what she does there is — in Hammerstein's hands — never exactly spelled out, and therein lies the core of the problem. "Will You Marry Me?" sings the girl to the man (using a proposal song written for Emile de Becque during the second week of the Boston tryout of South Pacific). The whole conflict of Pipe Dream is built around why Doc has qualms about marrying Suzy, but this doesn't quite come across if the audience doesn't know she's a hooker. Steinbeck, half in jest, complained to Oscar that his libretto made her seem more like "an off-duty visiting nurse."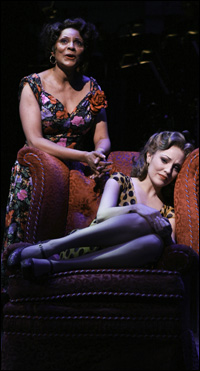 photo by Ari Mintz
Any qualms R&H might have had about the source material — Steinbeck's 1954 novel "Sweet Thursday," itself a sequel to his 1946 "Cannery Row" — were obscured by the writers' inter-related friendships. The original 1943 production of Oklahoma! had a stage manager named Elaine Anderson, a Texan who was altogether swell; this in a day when there were exceedingly few female stage managers on Broadway. (I met her a couple of times in the 1980s — she died in 2003, at the age of 88 — and she was sharp and refreshing.) She became a fast friend of both R&H even though she soon left Oklahoma!, moving to Hollywood with her movie star husband, Zachary Scott.
Anderson became involved with Steinbeck in 1949, and seems to have brought his new play to R&H; at the time, they were successfully producing non-musicals on Broadway (including John van Druten's long-running I Remember Mama and Samuel Taylor's The Happy Time — both of which eventually were musicalized into elephantine failures). The boys duly produced Steinbeck's Burning Bright in October 1950, although it lasted a mere ten days. After which they decided to restrict their New York producing activities to shows written by themselves.
Pipe Dream originated with Cy Feuer and Ernest Martin — producers of Frank Loesser's Where's Charley? and Guys and Dolls — as a project for the raffish Frank, who turned it down. They went on to R&H, who — due in part to their strong friendships with Steinbeck and Elaine — were glad to sign on. (Feuer and Martin retained 20 percent of the profits, with R&H insisting that they receive no billing. This ultimately resulted in a major feud and outrageous dispute during The Sound of Music, which has nothing to do with Pipe Dream so we'll leave it at that.)
Making the thing more of a family affair was the fact that the leading role of Doc was intended for Henry Fonda, a Steinbeck colleague since the filming of "The Grapes of Wrath" in 1940. The same Fonda who was — at the time of Pipe Dream — actually part of the Hammerstein clan. On Dec. 28, 1950, Hammerstein attended two weddings: one of his stepdaughter Susan and Fonda, the other of Elaine Anderson Scott and Steinbeck. So it was all a happy family and a happy plan, until they discovered that Fonda — after a year of vocal coaching — simply couldn't sing.
Ultimately, Pipe Dream — without a star of the magnitude of Henry Fonda, without a clear revelation of the heroine's shady trade, and with the composer sidelined by illness — succumbed. Not helping matters was the decision of R&H to put the directing chores into the hands of Harold Clurman. I don't know that anyone has cared to investigate this curious aspect of R&H: on five of the seven musicals for which they controlled the hiring, they purposely chose people who had never before directed a musical. Only one of these directors, Vincent J. Donehue of The Sound of Music, did an adequate job.
At any rate, Pipe Dream arrived at the Shubert just after Thanksgiving 1955 and was gone by the Fourth of July. As far as we can tell, there was never again a full production until Encores! gave it a try this past March. What materialized is not an overlooked classic nor a brilliant musical. It is, however, a fascinating musical on several counts, and one which displays the rich, vibrant sound of pure Rodgers & Hammerstein. The experience is carried over — perfectly so — to the cast album, from Ghostlight. (The new in-house sound system at the thoroughly renovated City Center made it practical to record live, over two performances. There is some audience reaction, naturally, but it is relatively unobstrusive.) Yes — this failed, neglected score does sound a whole lot better now that we can actually hear it.
Visit PlaybillStore.com to view theatre-related recordings for sale.