Once Known as Angelica Torn, the Daughter of American Acting Royalty Takes a "Page" Out of Her Mother's Book


*

Psycho Therapy, Frank Strausser's manic romp around the psychiatrist's couch, which begins spinning Feb. 7 at Off-Broadway Cherry Lane Theatre, stars a fully formed actress with a stage-debuting moniker and an award-winning past.

By any other name, Angelica Page is the erstwhile Angelica Torn, the name she was born with and the name she has used for career in acting. Coming from such excellent stock, what else would the natural by-product of Geraldine Page and Rip Torn be doing?

"I've been wanting to do the name change for years," she admits. "There are so many Torns in my family. There are six of us kids. My father has a new wife. She has the name now. And nobody uses my mom's name. I just felt there are plenty of people to carry on my father's last name, but nobody is carrying on my mother's last name. My father thinks it's a terrific idea. He has been pushing for me to do it for a while."

Right now, she's working in a genre where no Torn or Page has ever (or, certainly, rarely) gone before — a flat-out farce in which she's such an undecided ditz she does couples therapy with her ex-boyfriend (Laurence Lau) and her current one (Jeffrey Carlson), much to the collective chagrin of their shrink (Jan Leslie Harding).

"Michael Riedel has been after me for years — 'When are you going to do a comedy, dammit?' — but I don't have the chance that often. I'm hoping that'll change.

"I actually based this character, Lily, on somebody who's been my best friend for 25 years who lives in L.A.," she says. "When you boil it all down, what I like most about this character and this play is that she and it are fun. She's unpredictable, she's zany, she's a love bug because she doesn't quite know what she wants — and that really keeps her in the moment so she's completely, 150 percent present to everything that goes on there. She's investigating life to figure out how she feels about everything.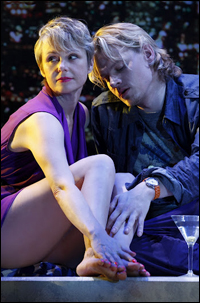 photo by Carol Rosegg
"It's a bit precarious because we had a short rehearsal period, but we have four pros up there, and we feel safe with each other. Plus, the material's fun to bounce off of."
Page has inherited her mother's grab-bag of tricks to keep it real and go daringly for the unexpected response. "Sometimes I don't even know where my reactions come from," she says. "What I learned about the process — one of the best things I learned from my mother — is knowing the material well enough you can forget everything and leave some things unplanned but trust that whatever you come up with is going to be the right thing. It's a little bit different, as live theatre is — but leaving yourself open to something surprising so you can surprise yourself and the audience."
It's a rough-and-tumble physical comedy, and during previews Page sported an arm cast to prove it. "It happened the first day of staging," she sheepishly admits, "the first day that Jeffrey Carlson was in the city. We were staging that first kiss when I don't want to be near him, and, when we started kissing, I fell backwards and broke my wrist. I was literally swept off my feet by my co-star, but it was worth it.
"I don't know about what goes on at Juilliard, but I've worked with two Juilliard actors and they're the best kissers. Ben Rappaport's the other one. My last boyfriend and I broke up over a play I did with Ben. He couldn't believe that we weren't having an affair. I told him, 'Only on stage.' He could not get over it. Such good training."