PLAYBILL ON OPENING NIGHT: Next Fall — Having Faith in the Broadway Play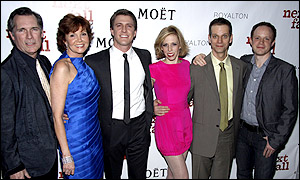 photo by Joseph Marzullo/WENN

Breen makes a perfect spokesman for Nauffts, and why not? They've been Naked Angels together for a quarter of a century and wield the same intelligent, sardonic wit as actors. "I'm having a blast," Breen blissfully admitted. "I've done readings with Geoffrey for, like, three years now so I'm pretty familiar with this character. I don't think I've ever had a better role — The Substance of Fire, Fuddy Meers, Brighton Beach Memoirs were great — but this is incredible."

It's a solid return to the New York stage for Breen, who has been partaking of the sun-kissed film and TV work on the other coast a lot of late. "I did a couple of series. It was fine. I still have an apartment there, but I'm a theatre guy, and I'm back."

Back, too, from the California vineyards is Cotter Smith, an old Circle Rep fixture: "My daughter was in high school in L.A. so I had to be in L.A., but she graduated, and now she's at Barnard so my wife and I have decided it was time to move back."

He also has a strong role to put him back in the stage marketplace. As Luke's pious, good-old-boy pop who prefers not to see his son's gayness, he is something of an unsympathetic sounding-board for the others to play off of, but he turns out to be the character who triggers the wellspring of tears. "I do like the guy," he allowed. "I find him very moving. I think the brilliance of the play is that Geoffrey doesn't judge him. He gives him his vision and his point of view in life, then at the end his soul is cracked open and he is exposed. He realizes he never knew his son. That you feel for him is Geoffrey's genius — he actually makes you feel for the man you hate."

As his pill-popping, loose-cannon ex, Connie Ray is all too aware of how the play and the players have grown since the previous engagement last summer. "I think it's because they gave us three more weeks of rehearsal," she proffered. "Off-Broadway, we put it up in two weeks. It was really fast, and we ran it. We didn't know it was going to run so long, but to come back, having done 85 performances Off-Broadway and get three more weeks to really work on it — boy! did it make a difference!

"We are a great ensemble. We knew we would be the day we met, and we are very close. I think one of the reasons we can go so far — because we have to do this eight times a week, and it's devastating — is that we know and trust each other. We do not phone it in. It's real, and it's painful, and this is the only way we can really do it."

The younger half of the cast — Dugan, Heusinger and Corman — particularly glazed over during the curtain call, this being their Broadway debuts and everything.

"I don't think I have words to describe what it is like to take that curtain call," Corman said. "The response we get every night when we look at the audience is so mind-blowingly lovely. It's a privilege, though. I know that it sounds corny, but it's like a privilege to tell the story every night. We have nights where we're nervous. The six of us are extremely close, and, when one of us is a little wonky, we just look at each other and say, 'Tell the story,' because it's such a great story to tell."

Redheaded Dugan seconded that: "It's a thrill to be on a stage you've seen shows in and get to see it from the other side — especially when the audience has just spent two hours being so appreciative and vocal, laughing in the right places, crying in the right places, that standing ovation at the end. You can't help but be overwhelmed!"

Chimed in Heusinger, "I don't think I'll ever have a better experience in doing a play. I really do feel that. I just told somebody the other day, 'You know, sometimes like in baseball the game's over in the first inning, or, if it's soccer, the game's over in the first minute, and this is one of those things where I may be mid-20s and this may be it for me, and I'm fine with that. I don't think I'll have the opportunity to work with such skilled and talented artists as the director, writer and entire cast are."

Among Sir Elton's eclectic "nearest and dearest" who glittered up the occasion were artists Terence Kohn, Pat Steir, Cecily Brown and Ross Bleckner; "Nurse Jackie" herself, Edie Falco, with actor-beau, Bill Sage; designers Helmut Lang and Donna Karan; Passing Strange's Elsa Davis with Mauritius's Bobby Cannavale (clean-shaven from his Thomas McCarthy flick, "Win Win"); Whoopi Goldberg and Sherry Shepard, two of "The View"; David Schwimmer; film directors Julian Schnabel and Milos Forman; stage director Gordon Greenberg; performance artist Laurie Anderson; "The Hours" author Michael Cunningham; comedienne Kate Clinton; B52s' lead singer Kate Pierson; political activist Urvashi Vaid; celebrity chef Eric Ripert; and Matt McGrath, fresh from opening Top Secret at New York Theatre Workshop the night before and meeting his real-life counterpart, Washington Post's George Wilson ("He's invited me to go fishing out in DC and I may take him up on it").