PLAYBILL PICKS: The Top Theatre Stories of 2013



Photo by Joan Marcus
BIG BARD: More than any other season in recent memory, New York stages—on Broadway, Off-Broadway, in Brooklyn—were replete with titles by the Bard. And, not just productions—great productions, brimming with invention and expertise. The Public Theater furnished one of the more praised versions of The Comedy of Errors in many years, at the Delacorte; the Donmar Warehouse's all-female, prison-set Julius Caesar was presented by St. Ann's Warehouse; director Julie Taymor made a triumphant return to classical theatre with a visually stunning mounting of A Midsummer Night's Dream, which opened Theatre For a New Audience's new Brooklyn home; and the Shakespeare's Globe's all male, in-rep productions of Twelfth Night and Richard III, starring Mark Rylance as Richard III and Olivia (with all the actors in period-correct costuming, right down to their undergarments, and the musical accompaniment courtesy of medieval instruments, all under candlelit chandeliers) opened to raves on Broadway. Two productions each of the suddenly oft-produced Macbeth, at Lincoln Center Theater and on Broadway, and of Romeo and Juliet, on both Broadway and Off-Broadway, weren't as lucky with the critics. But for the Shakespeare lover, the year was one for the books.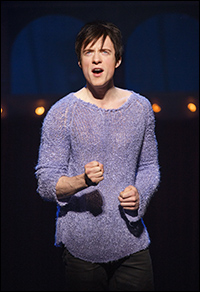 photo by Joan Marcus

IT CAME FROM BOSTON: In her few short years at the helm of Boston's American Repertory Theatre, artistic director Diane Paulus has become the success story of the regional theatre, sending hit productions to Broadway at an alarming rate. Her controversial revamping of Porgy and Bess came first in 2012, followed this year by her acrobatic re-envisioning of the musical Pippin. Both did what shows are supposed to do on Broadway—win Tonys and recoup—in speedy fashion. Fall of 2013 saw the transfer of A.R.T.'s revival of The Glass Menagerie starring Cherry Jones (another critical hit). The LBJ play All the Way, with "Breaking Bad" star Bryan Cranston starring, arrives in spring 2014. The Boston Post Road hasn't gotten so much traffic since the stagecoach days.

IT'S BETTER IN REP: Repertory theatre, one of the oldest stage models in the books, became newly hot in 2013 courtesy of two British imports. Thanks to a raft of hosannahs from the critics, and double Tony winner Mark Rylance's pull with New York theatre audiences, the all-male, in-rep renditions of Twelfth Night and Richard III, from Shakespeare's Globe, have been beating them back at the box office. The double-bill of Beckett's Waiting for Godot and Pinter's No Man's Land, starring British stage royalty Ian McKellen and Patrick Stewart, performed nearly as well with both critics and audiences. Both events illustrated that sometimes two shows are better than one.