PLAYBILL THEATRE WEEK IN REVIEW, Dec. 1-7: The Anarchist, Golden Boy, Foxwoods for Sale



Photo by Joan Marcus
David Mamet's The Anarchist was the subject at hand. The latest play by the oft-produced writer — directed by himself and starring Patti LuPone as a prison inmate and Debra Winger as her warden (actually, a composite agent of potential parole) — opened on Dec. 2 to harsh reviews. Two days later, the producers announced the show would close on Dec. 16. It was originally scheduled to play a 14-week run through Feb. 17, 2013.

One can hardly blame them, given the tenor of the notices. The Times called it a "heavily embroidered slip of a play" where "the relationship here feels less like one of jailbird and turnkey than that of a graduate student defending her thesis and a humorless visiting examiner." Hollywood Reporter called it a "wearying lecture." AP said it "starts in second gear and never really speeds up or slows down, just becomes wave after wave of staccato dialogue that is more pleasant on the page than spoken." Even at just 70 intermissionless minutes, said Bloomberg News, it "is a challenge to sentience."

It was a remarkable flop, given the starry cast and the powerhouse playwright. But, then, recently Broadway seasons have been like that: one Mamet revival, which is usually a hit (Speed-the-Plow, this fall's Glengarry Glen Ross, as well as the 2005 revival); and one new Mamet play which is a crap shoot (November missed, while Race recouped). As most of the productions are produced by Mamet's faithful producer, Jeffrey Richards, one imagines (one hopes) it all evens out on the balance sheet.

***

There were other closing notices this week, Scandalous: The Life and Trials of Aimee Semple McPherson, a musical by writer Kathie Lee Gifford about the Jazz Age evangelist, will close on Broadway Dec. 9. It had been struggling at the box office in recent weeks.

And producers of Broadway's Chaplin announced that the new musical about the life of silent film star Charlie Chaplin will play its final performance Jan. 6, 2013, at the Barrymore Theatre. There are plans for a tour, they say.

***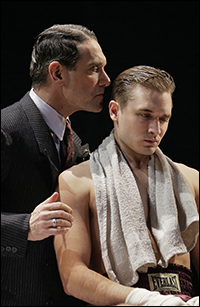 photo by Paul Kolnik
There will be no closing date in the foreseeable future for Golden Boy, the latest Odets revival from Lincoln Center Theater and director Bartlett Sher, which opened Dec. 6 to thunderous acclaim, much of it for Sher, though the Lincoln-Center-large cast (20!) was also praised.
"The skills [Sher] evinced in that rewarding revival [Awake and Sing!]," wrote the Times, "are on view here, too: a knack for making Odets' vernacular language feel like fresh mint instead of stale corn, and a gift for cutting to the emotional quick of a conventionally structured melodrama." Offered the AP: "Sher has embraced the realism of this dark world — the sweat, gore and rushes of blood to the head. There are passionate kisses but always a lingering threat of violence. The place reeks of leather and failure."
"Director Barlett Sher," stated Entertainment Weekly, "who has helmed superb productions of American classics ranging from South Pacific to Joe Turner's Come And Gone, has once again compiled a first-rate cast and captured the excitement and emotional resonance that make such works timeless." And from Time Out NY: "In a fall already steeped in excellent revivals… Golden Boy is the champion. Director Bartlett Sher, a superb 19-member ensemble and an ace design crew lift a neglected American classic and send it roaring back into the ring."
Another superlative came from Newsday, who said, "The point of this Lincoln Center Theater production is the rare opportunity to see a pivotal American period piece staged deeply into the period…with a huge, expert cast that only a nonprofit can afford to showcase with such luxurious dedication today on Broadway."
Golden Boy is golden. Don't look for an extension. Look for an open run.