PLAYBILL THEATRE WEEK IN REVIEW, Jan. 5-11: The Other Place, Water By the Spoonful, Bette Midler On Broadway


Fans of The Divine Miss M fell into a swoon when it was revealed that singer-actress Bette Midler — long lost to Hollywood, but once a New York icon — would return to Broadway in John Logan's new play (with a very Bette Midler title), I'll Eat You Last: A Chat With Sue Mengers. It will open on Broadway April 24 at a Shubert theatre to be announced.
Directing is the ubiquitous and seemingly tireless Joe Mantello — he just opened the play The Other Place on Broadway. Producing are Arielle Tepper Madover, James L. Nederlander and The Shubert Organization, Broadway big-dealers who know a shoo-in box-office hit when they see it. Joining them is a wild card — novice producer Graydon Carter, who's better known as the swoop-haired editor of the glossy, Hollywood-loving magazine Vanity Fair, and as the owner of several swanky, hard-to-get-into Manhattan eateries. (One imagines he had something to do with luring Midler back to the stage.)
Midler will play the legendary Hollywood agent Sue Mengers, who just died in 2011. She was that rare agent who was as well known as some of her clients. A refugee from Hitler's Germany, she is credited by some with creating the idea of the "superagent." During the 1970s, she represented almost every major star in Hollywood, from Cher to Gene Hackman to Bob Fosse. Characters in the films "The Last of Sheila" and "S.O.B." were based on her.
***
If you like your one-woman shows less juicy and pulpy, and more ascetic and serious, you may instead want to take in The Testament of Mary, which depicts the story of Mary following the crucifixion of Christ. The play, directed by Deborah Warner, will star Fiona Shaw. Performances will begin March 26 at the Walter Kerr Theatre for a limited 12-week run.
Shaw and Warner have previously collaborated on productions of Medea, Happy Days, Mother Courage, Hedda Gabler, The Good Person of Sichuan and The Waste Land.
Mary is based on a short novel by Irish writer Colm Tóibín that was released in 2012. In it, the mother of Christ questions her son's death, his divinity and the followers who called him the son of God.
***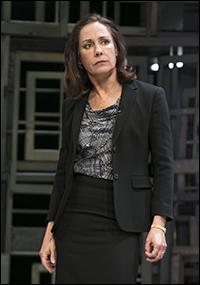 photo by Joan Marcus
The Other Place, Sharr White's play about an assured medical researcher whose health, homelife and workplace are shaken to their cores, opened this week at Manhattan Theatre Club's Samuel J. Friedman Theatre. The drama stars Laurie Metcalf, reprising her earlier Off-Broadway performance, plus Daniel Stern, Zoe Perry and John Schiappa.
Critics liked the play, but, moreover, felt that Metcalf — always a respected performer — had finally found a New York stage role that matched her talents.
The New York Times called the play "a cunningly constructed entertainment that discloses its nifty twists at intervals that keep us intrigued," and credited Metcalf with some of the production's success. "Thanks to the superb performance of Laurie Metcalf as Juliana, the less we are sure of, the more we are engaged. Our perceptions of Juliana's journey through a life upended by trauma may continually shift, but one thing remains fixed: the intense, complicated humanity of Ms. Metcalf's performance."
The AP called the play "so buffed and polished it now seems to squeak," and said the writing was "matched by a searing, brilliant performance by Laurie Metcalf, who is simply astonishing as she goes from snippy, bossy scientist to a broken, confused intruder wolfing down Chinese food on the floor." "In the role of a brittle biophysicist," wrote the Hollywood Reporter, "terrified, angered and ultimately humbled by her own illness, Metcalf has found a vehicle that allows her tremendous gifts to blaze fiercely."