PLAYBILL THEATRE WEEK IN REVIEW, June 9-15: Tony Roundup, Susan Stroman and Woody Allen, Mamet-Mania!



Photo by Joseph Marzullo/WENN
Clybourne Park, the dark comedy about race and real estate which almost didn't make it to Broadway when playwright Bruce Norris and producer Scott Rudin had an off-stage dust-up, won for Best Play.

And the Diane Paulus revival of The Gershwins' Porgy and Bess, which was almost derailed in Boston when composer Stephen Sondheim attacked the liberties Paulus and her colleagues were taking with the script, won for Best Revival of a Musical (over Sondheim's own Follies).

Once, the Dublin-set musical that uses actor-musicians to tell its love story, was named Best Musical, and walked away with seven other awards as well, including: Steve Kazee as Best Actor in a Musical; John Tiffany for Best Direction of a Musical; and Enda Walsh for Best Book of a Musical.

Death of a Salesman took home the trophies for Best Revival of a Play and Best Direction of a Play (Mike Nichols).

Audra McDonald won her fifth Tony, for her performance in Porgy and Bess. It was her first Tony in the Best Actress category. Her previous four wins were in the Featured categories. James Corden, the British star who plays a servant of two masters in the Broadway engagement of the London farce One Man, Two Guvnors, won for Best Actor in a Play. Nina Arianda, who was fresh out of NYU when she landed the Off-Broadway job of Vanda in David Ives' sexy dark comedy Venus in Fur in 2010-11, won as Best Actress in a Play.

Alan Menken, whose stage scores include Little Shop of Horrors, Sister Act, King David and Leap of Faith (not to mention having scored several famous animated Disney films, later adapted to Broadway), won his first-ever Tony Award for Best Score, for Newsies, with lyricist Jack Feldman.

Christian Borle took home the 2012 Featured Actor in a Play Tony for his purposely hammy work in Peter and the Starcatcher, which claimed a total of five Tonys.

Nice Work If You Can Get It brought Tonys to two stage veterans: Judy Kaye, who won for Featured Actress in a Musical, and Michael McGrath for Featured Actor in a Musical.

What did the folks at home think of the extravaganza, which was hosted by Neal Patrick Harris at the Beacon Theatre? Not much. The CBS broadcast of the 66th Annual Tony Awards, according to preliminary numbers, was the lowest-rated Tony telecast ever.

***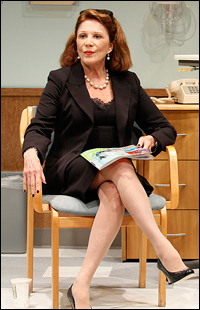 photo by Carol Rosegg
The Tony ceremony always leaves its victims. Linda Lavin, the star of The Lyons, Nicky Silver's dysfunctional-family comedy, did not win a Tony for her widely praised performance. And so the play announced it will close July 1 at Broadway's Cort Theatre.
The Broadway revival of Godspell, too, said it will end its Broadway run June 24. It failed to earn any nominations.
***
Life goes on after the Tonys. And so does Broadway. Harvey, Mary Chase's harmless 1944 chestnut about a man and his invisible six-foot rabbit pal, opened at Studio 54 on June 14 in a Roundabout Theatre Company production starring "The Big Bang Theory" star Jim Parsons as Elwood P. Dowd.
This was obviously a production put together for subscribers, not critics. (Pulitzer or no Pulitzer, Mary Chase hasn't been a critics' favorite for decades, and never will be.) Unsurprisingly, most critics found the choice tame, dull and dated. But they didn't dislike it. The New York Times gave it a pass, using gentle words like "winsome" and "amiable." The Hollywood Reporter called it "an unassuming charmer" that was much needed after Tony-season stress.
Parsons won some nice praise. The Times said, "Mr. Parsons possesses in abundance the crucial ability to project an ageless innocence without any visible effort." Variety called him "sweetly formidable." Entertainment Weekly called him "a rail-thin everyman who projects both intelligence and fundamental decency." Not everyone was in love. Wall Street Journal said he was "giving the kind of affably superficial performance that you'd expect from a network sitcom star."
The worst review may have come from the AP, where the usually amiable and affable Mark Kennedy seems to have missed his morning coffee. "At Harvey," he wrote, "there is overacting and under-acting, poor sound quality and endless windups for lame payoff jokes. And it is led by an actor who seems to be completely shorn of any charisma. Parsons, who plays a hard-core physicist nerd on 'The Big Bang Theory,' has merely transferred his pursed-mouth, vaguely creepy and unsocialized TV character to the stage. With no laugh track. For two hours."
I think Elwood needs to take somebody down to Charlie's Place for a drink.