PLAYBILL THEATRE WEEK IN REVIEW, March 9-15: Critics Respond to the New Plays by Christopher Durang, Annie Baker, Craig Lucas



T. Charles Erickson
Also in the new play, which spoofs Chekhovian themes in an American setting, are Kristine Nielsen, David Hyde Pierce, Genevieve Angelson, Shalita Grant and Billy Magnussen.
As with the Off-Broadway run, the reviews were good, but not great. "In Durang Land, of course, heartache is generally fodder for belly laughs," wrote the Times. "There are enough sprinkled throughout his latest play to keep the temperature in the theatre from cooling for long, although this romp through an Americanized version of Russian anomie is more a series of loosely connected set pieces than a cogently put-together play." Said AP, simply, "It's all a bit silly, a tad daffy and very, very sweet."
New York Magazine, like a few other reviewers, found the piece a bit of a patchwork: "Like its Chekhovian characters, Vanya and Sonia and Masha and Spike is assembled from mismatched parts and is desperate for affection, which it miraculously earns."
Entertainment Weekly thought the script was amply assisted by its cast, saying "The play may be — okay, is, definitely — overstuffed. Fortunately, the performances are first-rate. Durang's old Yale Drama pal Weaver and Nielsen, his favorite character actress of late, know his brand of eccentric comedy better than anyone. Nielsen, especially, is at her bug-eyed, bobble-headed best — really, this is a good thing, particularly when she's impersonating Maggie Smith."
***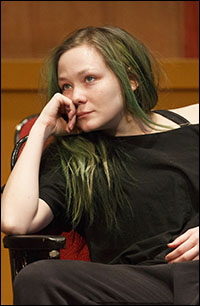 photo by Joan Marcus

Off-Broadway, Alex Hanna, Louisa Krause, Matthew Maher and Aaron Clifton Moten opened in The Flick, the latest play from Annie Baker, who's been basking in the critical sunshine for a couple years now. (She was even the subject of a fawning New Yorker profile.) The play, at Playwrights Horizons, reunites her with her frequent director Sam Gold.
The play is set in a run-down movie theatre in central Massachusetts, where three underpaid employees (Krause, Maher and Moten) mop the floors and attend to one of the last 35-millimeter film projectors in the state.
The Times, in a largely positive review, said, "For all the delicacy and insight of the writing, the epiphanies certainly take their sweet time coming in The Flick, which at three hours (with one intermission) runs about as long as your average Shakespeare production. The emotional impact of the events that gradually leave one of the characters feeling alienated from the others is somewhat vitiated by the play's inordinate length… And yet if you have any feeling for ordinary people in furtive search of those extraordinary things — requited love, true friendship, a sustaining belief in mans humanity to man — that can ennoble any life (or blight it, should they be lost), this lovingly observed play will sink deep into your consciousness, and probably stay there for a while."
New York magazine clothed its praise in a criticism. "No one does anything generally regarded as theatrical," it said. "So what does happen in The Flick? A lot of sweeping and mopping of the floor of a grotty old movie house near Worcester, Massachusetts. Also the tenderest drama — funny, heartbreaking, sly, and unblinking — now playing at a theatre near you."