PLAYBILL THEATRE WEEK IN REVIEW, May 5-11: Coal Miner's Daughter and Chaplin on Broadway



Russ Harrington
Zooey Deschanel, the "New Girl" star known for her bangs and woodland-nymph-like eccentricity — and also for having a more-than-decent singing voice and musical ability — will play country music legend Loretta Lynn in a Broadway stage adaptation of the book and film Coal Miner's Daughter. The announcement was made, for optimum hokum effect, from the stage of the Ryman Auditorium during Opry Country Classics. (In 1979 at the Grand Ole Opry, Lynn invited a young Sissy Spacek onstage to announce that she had chosen the actress to portray her in the film "Coal Miner's Daughter." Spacek went on to win the Academy Award for her performance.)
Coal Miner's Daughter will be brought to the stage by Fox Theatricals and Scott Sanders Productions. The creative team and dates for the production will be announced in the coming months.
Meanwhile, the New York Post reported that Tom Hanks will star in Lucky Guy, Nora Ephron's account of the life of colorful and controversial tabloid reporter Mike McAlary, who died in 1998 and the age of 41. (Hanks, born in 1956, is much older than "lucky" McAlary ever lived to be.) George C. Wolfe will direct the play, which will test the idea whether plays with journalist protagonists can succeed with New York critics. (Recent examples, such as Sweet Smell of Success, Mr. and Mrs. Fitch and The Columnist have not fared too well.)
McAlary seems to be catnip for writers. Randy Quaid played a reporter based on him in the Ron Howard film "The Paper." And there's already been at least one play about his life: The Wood, by Dan Klores, which played Manhattan's Rattlestick Playwrights Theater in 2011.
***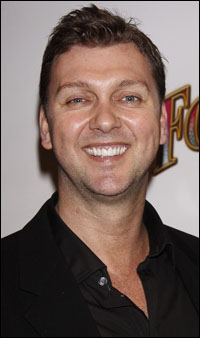 photo by Joseph Marzullo/WENN
In other Broadway bio-play news, Chaplin, a new Broadway musical based on the life of silent film star Charlie Chaplin, will arrive on Broadway Aug. 21 at the Barrymore Theatre, featuring direction and choreography by Warren Carlyle.
Unlike Coal Miner's Daugher, this project is following the old-fashioned publicity route, revealing its creative crew before it announces a star. Chaplin has a score by Christopher Curtis and book by Curtis and Thomas Meehan, who's been around so long he may have actually known Chaplin.
Initially announced for Broadway as Becoming Chaplin, the show's title has been streamlined. The musical was presented under the name Limelight: The Story of Charlie Chaplin in its first full production at the La Jolla Playhouse in 2010. Rob McClure had the Little Tramp role there.
***
That Tony nomination for Best Musical did Leap of Faith no good. The new Broadway show about a con-man preacher who blows into a depressed, drought-plagued Kansas town, will close on May 13, weeks before the winner of that category is announced. The Alan Menken-Glenn Slater-Warren Leight show followed negative pre-opening buzz with a clutch of poor-to-middling reviews, a public relations deficit it was never able to overcome. (Menken can draw some solace in that he still has two other musicals running on Broadway — Newsies and Sister Act.)