PLAYBILL THEATRE WEEK IN REVIEW, Nov. 24-30: Miss Firecracker Is Heading to Broadway; Dead Accounts Opens



Photo by Joseph Marzullo/WENN
The play was a surprise. It's Beth Henley's 1980 comedy The Miss Firecracker Contest, which nobody has given much thought to since it was made into a 1989 film featuring its original star, Holly Hunter. Henley hasn't been on Broadway in 30 years; she's hasn't been Off-Broadway much either, for that matter.

The revival's director, Judith Ivey, was less of a surprise. Though still known mainly as an actress (witness her fine work in the current The Heiress), she has accrued some director cred of late. But this will be her Broadway directorial debut.

A bigger surprise is the star, Amber Tamblyn. The daughter of movie-musical semi-legend Russ Tamblyn, this will also be her Broadway debut. She is perhaps best known as the star of the television series "Joan of Arcadia," about a teenage girl who gets visited by God a lot.

The Broadway staging will be produced by HOP Theatricals and lead producer Larry Kaye, who is also the producer of the upcoming Broadway play The Velocity of Autumn, another production that came out of nowhere.

***

Opening on Broadway this week were Norbert Leo Butz and Katie Holmes in Theresa Rebeck's new black comedy Dead Accounts, about an Ohio family whose prodigal son (Butz) returns flush with money and secrets. Jack O'Brien directed.

Despite lacking leading man good looks, or a gainly name, Butz has arguably turned into the leading stage actor of the day, excelling both in plays and musicals. To my knowledge, critics have never not loved his work—at least not in the last several years. Such, again, was the case here. Butz "pulls out all the stops in the play's leading role," wrote the L.A. Times. "He delivers a performance of frenetic gusto as Jack."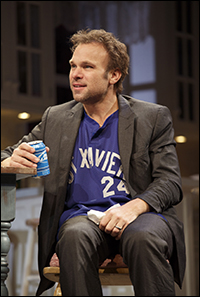 photo by Joan Marcus
About the play itself, they were less impressed. "Thin" was the word used again and again. Backstage called it a "lazy and predictable comedy…that wouldn't even pass muster as a Lifetime movie." Hollywood Reporter intoned, "The play suffers from the same shortcomings that often cramp the theater work of Rebeck...Dead Accounts is all surface polish and minimal depth. It has lively dialogue, well-drawn characters and a smattering of smart observations about contemporary life. But it never acquires thematic coherence." The Post quipped, "While the producers were busy signing up Katie Holmes and Norbert Leo Butz, playwright Theresa Rebeck forgot to write a show."
After those reviews, the casting of Holmes may be the only thing that will keep this account open.
***
To scattered interest and not a little confusion, it was announced that a planned stage musical based on the life and music of late singer Amy Winehouse, which was to debut in Copenhagen early next year, had been canceled.
The new musical, called Amy and set to premiere Jan. 30, 2013, at the Danish Royal Theatre, was scuttled after rights to utilize Winehouse's music were pulled by a Danish copywright agency. Hard to do a Winehouse musical without any Winehouse music.
Winehouse died 18 months ago. The singer's family was not involved in the production.