PLAYBILL THEATRE WEEK IN REVIEW, Sept. 29-Oct. 5: Rebecca's Woes, Grace Opens, New Homes for Atlantic and Public


The tale of fraud, death and mystery investors swirled like a galaxy around the dark sun of a musical known as Rebecca. A hard-luck project from the very day it was announced as a Broadway prospect a few years ago, Rebecca's future was never stable. It was on, it was off; the money was there, the money wasn't; it was due for this season, it was coming next season. Finally, on Sept 30, producer Ben Sprecher announced the show will not open this fall as scheduled; the capitalization had failed to materialize. But that was just the start of the backstage drama, one that kept theatre reporters and Shubert Alley gossips busy all week.

The producers, seeming to take a page from the sudsy novel they were attempting to dramatize, blamed their fate on an untimely death and a mysterious, cruel character lurking in the shadows.

In early August, the press was told, one Paul Abrams — a South African businessman and a major investor who, with three other colleagues, was supposed to cough up $4.5 million of the show's $12 budget — suddenly died. In London. From malaria. Malaria in London. Then the producers complained that a malicious e-mail sent by an anonymous party has scared off a replacement investor.

Soon enough, the bloodhounds of Broadway began looking into this Abrams. But they could find no trace of him, no death notice, nothing. Sprecher admitted he had never met the man, but had been connected to him by a middle party — whom he declined to name. The press found the middleman nonetheless. He was Mark C. Hotton. A Long Island businessman, he has been previously sued for fraud in federal court in New York and Florida, and been accused of running a Ponzi scheme. The Times reported that Hotton filed for personal bankruptcy in 2011. His debt was said to be $15 million.

Now the U.S. Attorney's Office and the FBI are interested, and have begun reportedly looking into the circumstances of the loss of financing of Rebecca. Sprecher denies he had fabricated any aspect of the show's investors or investment history. As for Hotton, he has not been reached for comment.

This would all make for a very good episode of "Smash."

***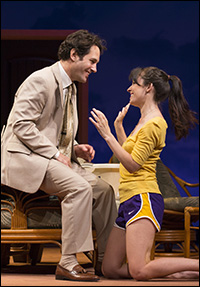 photo by Joan Marcus
Playwright Craig Wright's first Broadway production, Grace — a four-person darkly comic drama set in Florida that examines the meaning of religion and life — officially opened Oct. 4 at Broadway's Cort Theatre following previews that began Sept. 13.
Directed by Dexter Bullard, the cast included stage and screen star Paul Rudd, as well as Michael Shannon, Kate Arrington and Edward Asner. Rudd and Arrington are a wide-eyed young couple who head South with big plans to open a chain of Gospel-themed motels.
Anyone familiar with the political leanings of most theatre folk can't have been surprised with Wright's take on religion and the religious. And most critics weren't surprised either. "Grace isn't as intellectually probing or unsettling as it means to be," opined the Times. "It tidily stacks the deck of its central thesis, which concerns the nature of grace as it is visited on inhabitants of this earth. In Mr. Wright's version the evangelical Christian doesn't stand a chance…The paradox of the financially beleaguered Steve [played by Rudd] losing his religion while everybody else finds theirs is laid out as tidily as a PowerPoint presentation."
Still, that didn't mean it wasn't fun to watch the actors play out the predictable story. "The unraveling of Steve is at the heart of this play, and it is a sad and wondrous thing to watch Rudd, the childlike man of Judd Apatow films, go from a smug, big-smiling, self-assured guy to a shattered man whose faith has evaporated and who now holds a revolver." Newsday carved out a position down the middle, saying, "This strangely entertaining, seriously unsettling play...keeps teetering on becoming a glib cartoon about religion. But the actors…make it impossible to look away long enough to doubt their characters." New York magazine summed it up with "Miraculously, then, Grace is highly watchable; where it slumps as a play, it soars as a competent consumer good."