PLAYBILL.COM'S THEATRE WEEK IN REVIEW, June 13-19: No Special Treatment



Photo by Aubrey Reuben
This week, another category bit the dust, after a decade-long run. The '00s will perhaps be remembered in the Tony history books as the time of the Special Theatrical Event. The category was created during the 2000-01 season. The 2000 nominating process inspired many arguments within the theatre community. People didn't know what to do with certain fish-nor-fowl shows Riverdance—On Broadway (which was called a musical), Squonk and the solo show Dame Edna—The Royal Tour. Provoking the most controversy was Contact, the Susan Stroman-John Weidman show that went on to win Best Musical, despite it not possessing an original score or one singing cast member.

Special Theatrical Event was the Band-Aid devised by the Tonys. The first winner of the category, in 2001, was an extremely "special" marching-band extravaganza called Blast!. It had to win. It was the only thing nominated. The next year there was a full roster of nominees, and the worthy Elaine Stritch emerged triumphant for her one-woman show. Other winners over the years included Billy Crystal and ventriloquist Jay Johnson, but some seasons there wasn't a winner at all.

Shows which were formerly considered eligible in the Special Theatrical Event category will henceforth be placed into eligibility in either the Best Play or Best Musical categories. Also, the Administration Committee will "retain its ability to award a Special Tony Award to productions or any element thereof, worthy of extraordinary recognition. Additionally, by eliminating the category of Special Theatrical Event, all elements of all productions will now be eligible for nomination in all the other creative categories, which was precluded for productions eligible as Special Theatrical Events under the prior rules."

And that's how it stands—until next year.

***

These days, it seems, you walk down West 45th Street humming a tune, you'll get an original cast recording.

Glory Days, the pop musical about a reunion of four high school buddies that ran for one official performance—one performance!—on Broadway will get a cast album. Credit Sh-K-Boom's Ghostlight Records with this particularly niche-y commercial enterprise.

We're told that the recording is in anticipation of an imminent licensing deal for the script and score, and that there has been "an overwhelming amount of requests for it from colleges and regional theatres."

***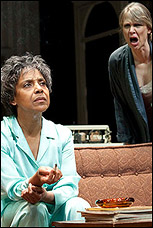 photo by Robert J. Saferstein

The Pulitzer Prize and Tony Award-winning August: Osage County will end its Broadway run June 28 at the Music Box Theatre, producers announced late June 17.

When it closes, Tracy Letts' acclaimed drama — which opened on Broadway Oct. 30, 2007, and recouped its investment long ago—will have played 18 previews and 648 regular performances. Compared to the two other big straight-play hits of the past decade, that's more than Doubt, which had 525 performances, but not as much as Proof's 917. And both of those were only 90 minutes long—roughly the length of August's first act!

Tony Award winner Phylicia Rashad currently stars opposite original cast member Amy Morton, who recently returned to the cast.

A national tour of August: Osage County launches July 24-Aug. 8 in Denver at the Ellie Caukins Opera House before moving to San Francisco's Curran Theatre Aug. 11-Sept. 6.

***

Producers Emanuel Azenberg and Ira Pittelman announced June 17 that "The Neil Simon Plays" — new productions of Brighton Beach Memoirs and Broadway Bound — will play the Nederlander Theatre.

Directed by David Cromer, Brighton Beach begins previews Oct. 2 and opens Oct. 25; Broadway Bound begins previews Nov. 18 and opens Dec. 10. Beginning with previews for the latter, "The Neil Simon Plays" will be performed in repertory on a varied schedule.

The plays will feature Laurie Metcalf as Kate Jerome and Dennis Boutsikaris as Jack Jerome, with Santino Fontana as Stanley Jerome, Jessica Hecht as Blanche, Josh Grisetti as Eugene Jerome in Broadway Bound, Allan Miller as Ben in Broadway Bound, Noah Robbins as Eugene Jerome in Brighton Beach Memoirs and Alexandra Socha as Nora in Brighton Beach Memoirs.

***

David Hare continues to be the playwright most likely to offer his take of a timely social issue before anyone else.

The Royal National Theatre will premiere a new play by Hare entitled The Power of Yes: A dramatist seeks to understand the financial crisis.

The production will begin performances in the Lyttelton Theatre Sept. 29, prior to an official opening Oct. 6, and then continue in repertory. It will be directed by Angus Jackson and designed by Bob Crowley. According to press materials, on "15 September 2008, capitalism came to a grinding halt. As sub-prime mortgages and toxic securities continued to dominate the headlines, the National Theatre asked Hare to write an urgent and immediate work to be staged this autumn that sought to find out what had happened, and why. After meeting with many of the key players from the financial world, he has created this work, which is described as 'not so much a play as a jaw-dropping account of how, as the banks went bust, capitalism was replaced by a socialism that bailed out the rich alone.'"

No word yet on ticket prices.