PLAYBILL.COM'S THEATRE WEEK IN REVIEW, Oct. 19-25: A Time to Kill Gets Its Verdict and The Snow Geese Flies To Broadway



Photo by Carol Rosegg
Actually, Rupert Holmes is the writer of A Time to Kill, which opened at the Golden Theatre Oct. 20. But the source of the story is the legal thriller of the same name and the first Grisham book to be adapted for the stage during the novelist's long, successful career. The starry company who played out the tale of an idealistic lawyer seeking justice in the prejudice-riddled south featured Tom Skerritt, Patrick Page, Tony Award winner Tonya Pinkins, Chike Johnson, Ashley Williams, Dashiell Eaves, J.R. Horne, John Procaccino, Tijuana Ricks, Lee Sellars, Sebastian Arcelus, Fred Dalton Thompson and John Douglas Thompson.

Legal thrillers, common fare on Broadway a half century ago, are rare birds these days. Still, critics didn't seem to mind the genre's long absence much, as they found A Time to Kill less than thrilling.

"After decades of legal procedurals on TV and film, however," said Newsday, "it takes fresh urgency, irresistible casting and a real pulse to justify a big-ticket Broadway version. Under Ethan McSweeny's conscientious direction, what we get instead is 2 1/2 hours of competent acting and monotonous storytelling that seldom elevate the serious plot — a black man shoots the white men who raped his 10-year-old daughter — from the genre of theatrical hokum."

Some critics, however, found the show engaging.

"A thriller of the sort rarely seen on Broadway these days, John Grisham's A Time to Kill brings a satisfying, if unsettling, courtroom drama to the Golden Theatre with an engaging cast playing juicy dramatic characters in a lurid tale spiked with a mild frisson of sex," Bloomberg said.

Time Out New York, also praised the cast, saying, "Arcelus exudes decency without losing charm, but more notable is Thompson as the unrepentant vigilante. Hailey could have been indigestibly dignified and tragic, but thanks to Thompson's gruff yet light touch, he's richly human: neither fully innocent nor guilty."

***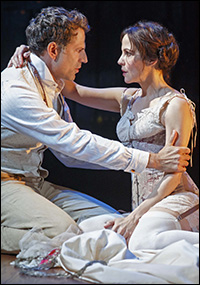 photo by Joan Marcus
The other Broadway opening of the week was the Manhattan Theatre Club/MCC Theater world premiere of The Snow Geese, Sharr White's WWI-set drama about a newly widowed woman and her family bracing against a changing world. It opened Oct. 24 at the Samuel J. Friedman Theatre in a production headed by Mary-Louise Parker and directed by Daniel Sullivan — the duo that brought the world Proof 13 years ago.
Reviews were tepid, despite the acclaim Parker and Sullivan achieved in their previous pairing, as well as Sharr's well-received spring 2013 production The Other Place.
The Times scratched its head over the production, wondering "how this lifeless play wound up on Broadway. I can answer that question in two words (or three, if you don't count hyphens): Mary-Louise Parker...On its own, though, Mr. White's play remains a muddle of pastiche parts that never cohere into an original and organic whole. And the cast members — who include the excellent Broadway veterans Victoria Clark and Danny Burstein and several attractive young newcomers — fail to convince us, and perhaps even themselves, otherwise. The same might be said of Ms. Parker, whose preternaturally youthful face seems frozen in mild astonishment, as if she were surprised to find herself here." Added Hollywood Reporter, "the overwhelming impression remains that a lot of care and effort has been put into a play that acquires a pulse only intermittently."
Several reviewers noted the play's slow start, but said it was worth the wait.
"...in time, The Snow Geese, as directed by Daniel Sullivan with his characteristic polish, turns into the atmospheric character study that White intended. Jonigkeit's emotional transformation in disposition is the unexpected centerpiece of this production," said AM New York.
USA Today concurred, saying, "White's play evolves, under Daniel Sullivan's meticulous direction, into a lovely, moving account of a clan's struggle to adapt to trying circumstances and a changing world."
***
Off-Broadway boasted two significant musical premieres this week. The first came at the Public Theater, where Fun Home, by composer Jeanine Tesori and playwright Lisa Kron, opened. The show was based on the darkly comic, coming-of-age graphic memoir by Alison Bechdel, and directed by Sam — "He Directs Everything" — Gold.
The musical tells the story of a graphic novelist whose father dies unexpectedly, causing the woman to dive deep into her past and tell the story of "the volatile, brilliant, one-of-a-kind man whose temperament and secrets defined her family and her life."
Critics were impressed by the unique and original show (set in the Bechdel family funeral parlor), which featured Beth Malone, Sydney Lucas and Alexandra Socha as author-narrator Bechdel at various stages of her life, Michael Cerveris as her father, Bruce Bechdel, and Judy Kuhn as her mother, Helen Bechdel.
"The work is sui generis," wrote the Los Angeles Times, "as much a play as a musical and not at all concerned with conforming to the expectations of either form." Stated Variety: "How refreshing — a queer coming-of-age play in which the hero(ine) is not a diva, the parents are not monsters, and people are never mean, even when they're being cruel. Lisa Kron's warm, funny, heartbreaking book…accomplishes all this without being sentimental."
Gold, said the Daily News, "as always, makes every moment — light, dark, disturbing — totally honest and creatively staged. Be glad you didn't live there. But this Fun Home is an unforgettable place to visit." The Times said the production, "finds a shining clarity that lights up the night."