Porgy and Bess, Controversial From Its Roots, Gets Revised for 2011


*

"This is a masterpiece," Diane Paulus says. "Not only musically, but in its bones. It's great theatre. Great emotion and power."

Paulus, artistic director of American Repertory Theatre in Cambridge, MA, is talking about The Gershwins' Porgy and Bess, which she is directing at ART for an Aug. 17-Oct. 2 run before a Broadway move. (The branding of the work with the addition of The Gershwins' is apparently the wish of the composer's estate, and not the invention of the ART creative team.)

The classic 1935 American jazz opera, by George Gershwin, DuBose and Dorothy Heyward and Ira Gershwin, has been adapted by Pulitzer Prize-winning playwright Suzan-Lori Parks (Topdog/Underdog) and Obie-winning composer Diedre L. Murray.

Its stellar cast includes four-time Tony winner Audra McDonald as Bess, Norm Lewis (Javert in the recent Les Miz revival) as Porgy, two-time Tony nominee David Alan Grier as Sporting Life and Joshua Henry, a Tony nominee last season for The Scottsboro Boys, as Jake.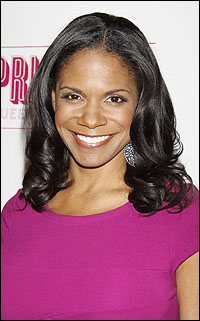 photo by Joseph Marzullo/WENN

The tragic tale of love is set in the African-American neighborhood of Catfish Row in Charleston, SC, and features some of George Gershwin's greatest hits: "Summertime," "It Ain't Necessarily So," "I Loves You, Porgy," "Bess, You Is My Woman Now." The lyrics are by Ira Gershwin and DuBose Heyward. Previews begin on Broadway Dec. 17 at the Richard Rodgers Theatre, with an opening date of Jan. 12, 2012.

Paulus says that until she took on this assignment she had seen Porgy and Bess only once, in the 1990s at New York City Opera. "I had two distinct experiences. One was that I kept thinking there are so many hit songs" in this opera — "hit after hit after hit." And then "the other experience was tears rolling down my face during 'My Man's Gone,' " in the second scene, "when the character of Serena is weeping over her dead husband. And I thought that since I direct opera, maybe one day I would be able to direct this opera."

These days she has "become obsessed with musicals — my passion is to direct musicals." And she is thrilled with "having the chance to direct Porgy and Bess, specifically in a way that brings it to Broadway. It premiered on Broadway in 1935, but in the last 40 years or so," even though it has been back intermittently, "most people associate it with an opera house."

Changes are being made. "In an opera house, it's on an operatic scale — big orchestra, many people onstage, epic presentation. Broadway means making it more intimate, focusing on characters and drama — listening to words, not just getting washed over by glorious music but hearing what the characters are singing — some of the greatest lyrics of all time."

The new version is shorter. "As an uncut opera it's almost four hours. This is about two and a half."

The show's age requires other modifications, she says. The goal is working on "what it means to do Porgy and Bess in 2011." The Gershwin and Heyward estates, she says, "were open to the idea of a writer coming aboard to strengthen the work theatrically."

"It's one of the greatest American works of the 20th century. Porgy and Bess in its time was quite radical. When Gershwin," a son of Russian-Jewish émigrés, "wanted to write a folk opera using jazz and featuring an all-black cast, that was radical in 1935." Al Jolson at the time was vying to play Porgy in blackface, she notes. "And it was George Gershwin who said, 'No, I want an all African-American cast.'"

DuBose Heyward, "this white aristocrat from Charleston, wrote the novel 'Porgy' in 1925," she says, when it "was heralded as looking at African-American life in a deeper and more sensitive way than it had ever been."

"Flash forward 76 years. We're thankfully in a different place. The idea of outsiders to a culture saying, 'Look, everyone, this goes on in our world' — we're not there anymore." So Parks came "on board to strengthen the piece dramatically." She's "been able to get in and fully realize characters — what might seem not complete in a character's arc."

Paulus continues, "For example, it's not clear in the opera why Porgy is a cripple. There's one line, 'God made me to be lonely.' He's displayed in a cart, and there's no real explanation of why he is that way." (In this production, Porgy uses a cane.)

"When you look at the source material in the novel, it's clear he was born this way. We added four words — 'I'm crippled from birth.' It's not an accident in which something happened to him as an adult. A handful of words give a specificity to his character."