Presidential Candidate Fred Thompson Takes the Stage — and the Stand — in A Time to Kill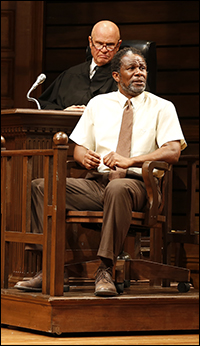 Photo by Carol Rosegg

"My hometown is about the same size as the fictional town in A Time to Kill. In fact, it's just a few hours from where I grew up. The lawyers, the judges, meeting at the local barbershop and barbecues — I know all these characters. And Grisham writes so well about them."

Thompson, who was born in Alabama and grew up in Tennessee, began his career as a lawyer and still thinks of himself in those terms. "That is the only thing, since I was 17 years old, that I set my sights on. And it still is to a certain extent. I wanted to be be Clarence Darrow, and make grown men cry and say 'Hallaluhah' in the courtroom."

It was a court case that introduced him to acting. In 1977, Thompson represented Marie Magghianti, a former Tennessee Parole Board chair who was dismissed for not cooperating with a a cash-for-clemency scheme in which prisoners bribed their way out of jail. When director Roger Donaldson decided to make a film out of "Marie," Peter Maas' book about about the trial, he asked Thompson to play himself. Since then, he has taken on dozens of roles in both films ("No Way Out," "Die Hard 2") and television (as D.A. Arthur Branch in "Law & Order"). He took a long break from acting while serving as Senator from Tennessee from 1994 to 2003. Thompson is happy to have finally made it to the theatre.

"I always considered the stage the real actor's work" he said. "All the film actors I've met have said it's their first love. I can see why. That's where the human predicament has been explored for hundreds of years."