Rock Musical Bare Strips Down and Explores New Turf in Off-Broadway "Revisal"



Photo by Joan Marcus
*
Eight years ago, Jon Hartmere, book writer and lyricist of the cult rock musical Bare, thought the time had passed for his show's chance at an Off-Broadway commercial run.
The piece — which, in 2004, was subtitled a Pop Opera — was slated to make the leap from a developmental run at American Theatre of Actors to Dodger Stages (now New World Stages) that fall; the transfer never happened, and a wider audience — including many who had heard buzz about it or seen its earlier version in Los Angeles — never made it to the hallowed halls of St. Cecilia's Boarding School, the show's insular setting where students' agendas were, as the musical says, "Best Kept Secret."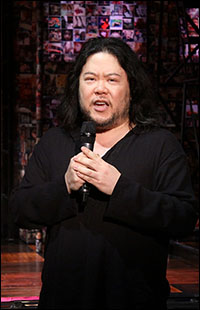 photo by Joseph Marzullo/WENN

Years passed. A studio album was released. Regional and college productions were mounted. And, something was happening in American culture: there was a well-publicized outbreak of suicides tied to LGBT youth, a drastic rise in awareness of bullying among adolescents and an ongoing fight for marriage equality. Maybe the timing was finally right for the musical about anxious teens coming of age. With new producers behind it, Bare has made its way back to New York City, but with a slight makeover by the show's creatives: Hartmere, director Stafford Arima, musical supervisor/arranger Lynne Shankel (Altar Boyz, Cry-Baby, Paper Mill Playhouse's Once On This Island) and choreographer Travis Wall ("So You Think You Can Dance").

"Because of the timeliness of what's happening out there in the world, and because we have an author who is alive and living and present in this world, it only made sense to continue to evolve the piece so that it maintained its heart and its soul and its…guts," Arima explained while sitting in the auditorium of New World's Stage 4 — the former home of his Altar Boyz in 2005 — during a recent tech rehearsal for the show, which began previews Nov. 19 toward its Dec. 9 opening night.

Hartmere added that "the core of the show is the same" although the work — originally co-created with composer Damon Intrabartolo, who is not attached to the current Off-Broadway staging — is no longer sung-through in the style of opera. "That's probably the biggest change — having more space to explore the characters," he said. "To know these characters a little bit better… you just need more room — you need more room for book scenes, and I personally just wanted to get under the hood and investigate a little bit further."