SECOND FLOOR OF SARDI'S: A Chat With Linda Lavin, the 2012 Tony Nominee Who Roars in The Lyons



Photo by Joseph Marzullo/WENN
*

Linda Lavin got her Sardi's caricature some time ago, on the occasion of her Tony Award-winning performance in Neil Simon's Broadway Bound. But she wouldn't mind a second.

"I asked for another one, because I never thought it really got me," she said on a recent Friday evening, sipping seltzer with lime at Sardi's second-floor bar in the hour before she reported for work at the Cort Theatre, where she stars in Nicky Silver's The Lyons. "You know that story about Pablo Picasso and Gertrude Stein? He painted her and handed her the portrait. She said, 'That doesn't look like me,' and he said, 'But it will.'"

Sardi's answer was no. "'That's it for your life,' they said," according to the actress. Lavin can live with that. She co-habitates with a portrait artist, after all — Steve Bakunas, her husband. Among his talents (he also co-runs the Red Barn community theatre with Lavin in their native Wilmington, NC, and plays drums at the actress' cabaret shows) is painting. Bakunas has captured Lavin in oil many times.

With The Lyons, Lavin is up for another Best Actress Tony. It could be argued that, more than any other Broadway show that the stage veteran has acted in, The Lyons is truly a Lavin vehicle. The marquee at the Cort seems to say so. Lavin's is the only name of the marquee, and in letters nearly as big as the title.

"My name was above the title in Gypsy when I took over in the show, so it's not the first," said Lavin. "It's the first time it's been this large. It was very generous of them to do it. The first time I saw it, and saw how big it was, I thought I could either run away and leave town, or realize how much of a responsibility I had."

The opening night party for The Lyons — which was born at Off-Broadway's Vineyard Theatre — was at Sardi's, a place Lavin has patronized since her Broadway debut in 1962.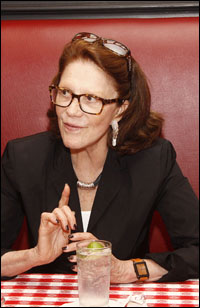 photo by Joseph Marzullo/WENN
"I used to come here between shows," she reminisced. "I remember Larry Kert took me to dinner several times. I remember sitting at a banquette next to Phyllis Newman. She was doing Subways Are for Sleeping. I was doing doing my first Broadway show, A Family Affair, which is how I met Hal Prince. I was in the chorus, but Hal took me out and gave me speaking parts. Hal came into the show out of town; Word Baker was the first director. Something happened after Philadelphia, and they brought in Hal. He structured the show and gave me five speaking parts, for which I was paid $5 extra a week for each part."
That extra $25 was welcome to a struggling actress who was making $28 a week in unemployment insurance — when she wasn't working the women's handkerchief counter at Bloomingdale's. (She didn't sell many.)
Lavin doesn't hurt for cash these days. For the past couple years, she's been constantly employed, jumping from acclaimed runs in the recent Washington, DC, revival of Follies to the Lincoln Center Theater premiere of Jon Robin Baitz's Other Desert Cities (both of which transferred to Broadway without Lavin, who opted to do The Lyons instead), to a recent two-night gig singing at the Metropolitan Room.
At the Metropolitan, Lavin sang selections from her new album "Possibilities," and will do so again this September at the newly opened theatre district boite 54 Below. Though Broadway has seen her in more plays than musicals, singing has always been a major component of Lavin's career. The album, however, came about almost by accident.
"I've been doing a nightclub act for about seven years with Jim Caruso," she said. The act was put together in five days after Caruso got her an engagement several years ago playing the Poconos. After Billy Stritch saw a show in the New York area, he asked to be musical director. Her bass player, John Brown, who is also head of the jazz department at Duke University, was the one who suggested she do an album. "After a few years, John Brown said, 'You ought to do a CD.' I said, 'I'd be happy to do a CD. No one has ever asked me.'" Lavin and her combo went to Brown's studio in Durham a year ago and cut 15 songs in a day and a half. The album was released by Sh-K-Boom Records.