SECOND FLOOR OF SARDI'S: A Drink With Playwright Christopher Durang



Photo by Joseph Marzullo/WENN
During a recent visit to Baltimore, the writer met a "charming woman" who happened to be on the board of that city's major nonprofit theatre, Centerstage. "We just had this rapport," Durang remembered. "I saw her the next day too. I knew we were looking for money."

By "we," he meant Joey Parnes, Larry Hirschhorn and the other producers who had decided to move his comedy Vanya and Sonia and Masha and Spike from Lincoln Center Theatre's tiny Mitzi E. Newhouse Theatre to Broadway.

"I wrote her and asked her if she'd be interested," he related. "Isn't that shocking?" Actually, it is — almost more shocking that the bad behavior Durang's characters typically exhibit in his sharp satires. Usually, dramatists don't soil their hands with the dirty business of raising capital. But Durang's ad-hoc entrepreneurship paid off.

"She wrote me a lovely note back, saying, 'I've never considered Broadway before and I'd be happy to talk to your producers.' And then she put in some money! She and I are going to have tea soon as soon as my leg is better."

About that leg. Durang landed badly on his foot some weeks back and has been undergoing physical therapy ever since. For a period, he got around with a walker. Now, however, he is armed with a cane. The cane — along with his usual beard, and the suit and tie he's been forced to wear at many award ceremonies — lends him a dignified air, just in time for seems to be his Grand Old Playwright moment. The spring, Vanya has been granted top honors from the Outer Critics Circle, the Drama League, Drama Desk and the New York Drama Critics Circle. The work is considered the front runner for this years Best Play Tony Award.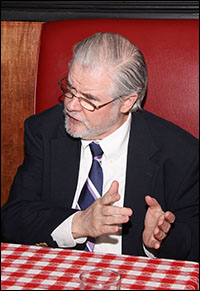 photo by Joseph Marzullo/WENN
"Some of my plays are either too dark or too quirky for Broadway," said Durang, an understatement if there ever was one. Biting tirades and psychotic hysterics, occasionally peppered with acts of comic violence, are the stock and trade of the Durang canon. It's no wonder that most of his 40-year career has played out on Off-Broadway stages.
The writer thinks he knows why Vanya's fate has been more commercial.
"I feel this play has a sort of different tone than a lot of my plays do," he theorizes, after apologizing for taking a moment to assemble his answer. ("I'm having a complicated thought — for me.") "I didn't consciously do that. My jumping off point was, 'Oh my God, I'm the age of Uncle Vanya. I'm not one of the young people anymore.' I got thinking of that and I sort of had a thought — what if I had had a life like Uncle Vanya. I was born in New Jersey and I went to different schools and I've lived in New York. But Vanya just seems to live in the country and never gets out. I live in a nice place in Bucks County, but I moved there later. So my thought was, 'What if I had lived here all my life?'"