SECOND FLOOR OF SARDI'S: A Soft Drink (and Hard Truths) With Elizabeth Ashley



Photo by Joseph Marzullo/Playbill
*

This feature is called "Second Floor of Sardi's," as in the bar area upstairs from the famous theatrical eatery. But Elizabeth Ashley didn't get that memo and stationed herself in a cozy, corner banquette in a hidden nook of the ground-floor dining room. Anyone who's covered the theatre for any amount of time knows you don't tell Elizabeth Ashley where to sit. So a "Second Floor of Sardi's" on the first floor it is.

Ashley, all incognito in a hat and large dark sunglasses, sipped on a ginger ale. She would've happily had a tequila neat (Patron Gold, please), but she was in between matinee and evening performances of The Best Man and had to keep her wits about her. Tequila is currently trendy among discerning drinkers. It's the new single malt Scotch. But Ashley's way ahead of those parvenus. She's been drinking it for 40 years, and learned to appreciate the nectar of the agave plant at the elbow of a peerless Mexico-phile.

"I was one of those girls who never knew what I wanted to drink," Ashley said in between bites of a chicken club, "and a thousand years ago a great man, Sam Peckinpah, said, 'Young woman, come here. I will teach you the fine art of drinking tequila, which means we start with mezcal.'"

Sticking to the going line of conversation, I asked Ashley what her friend Tennessee Williams preferred to drink. "Anything in sight," was the quick reply.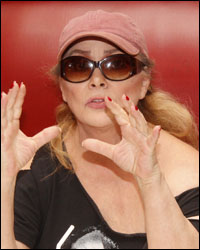 photo by Joseph Marzullo/Playbill
Ashley is one of 20th century's premier interpreters of Williams' work. Her 1974 Broadway embodiment of Maggie the Cat in Cat on a Hot Tin Roof is considered one of the finest interpretations ever presented. She's also acted in Williams' The Glass Menagerie, The Red Devil Battery Sign, Sweet Bird of Youth and The Milk Train Doesn't Stop Here Anymore. She promised Williams, before he died, that she would appear in those four plays, and, though it took a while, she fulfilled the promise.
Whether she is now done with Williams Ashley will not say. You never know what a career will bring, particularly when you're talking about the kind of roller-coaster resume Ashley has put together over 50-plus years. After all, she probably thought she was done with Gore Vidal's The Best Man when she acted in the play on Broadway in 2000. But here she is back in the political drama, and playing the same role, busybody backroom broker Mrs. Sue-Ellen Gamadge. The actress was busy planning her summer escape when the call came from producer Jeffrey Richards.
"Just as I was leaving California," she said, "and planning to go up to Maine, where I go MIA like I do every year, Jeffrey called me and asked me if I would go in for Angela Lansbury. When they say, 'Do you want to go in for Angela?,' it's presumptuous to even look too closely into Angela's shoes, much less stick one's own hooves into them. But I said, 'Of course.'"