"Smash" Star Christian Borle Hooks Up With an Infamous Role in Peter and the Starcatcher



Photo by Kristiina Wilson
*
In his day (which has now spread well over a century), Peter Pan has been menaced by some magnificently hammy Captain Hooks — Dustin Hoffman, George Rose, Hans Conried and Boris Karloff, to name a few. These days, the one eliciting hisses at Broadway's Brooks Atkinson Theatre in Peter and the Starcatcher is as sugar-cured and succulent as his predecessors. Only much younger. The intrinsically funny Christian Borle — he with the wide, wildly darting eyes and frenetic sense of play — is a well-seasoned 38.
Which, perhaps, is a good thing, since the buoyantly young Borle is addressing a kind of Captain Hook: The Early Years, as advanced by Dave Barry and Ridley Pearson. Their 2004 "pretend prequel" book, Peter and the Starcatchers (in the plural), conjured up back stories for the well-known J.M. Barrie characters before he had actually created them 100 years earlier, in 1904.
In Rick Elice's anachronistically urbane adaptation, which has been so imaginatively staged by Roger Rees and Alex Timbers that you almost leave the theatre whistling the direction, you learn lots about Peter, his pals and his foes — how an Everyboy riddled with teen angst became the ageless and airborne Eternal Boy, how Hook lost his hand and why he's haunted by a tick-tocking croc, even where mermaids come from.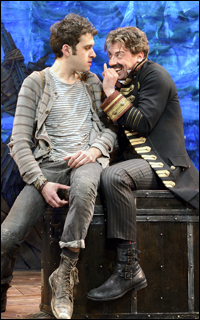 O&M Co.

The top-billed Borle, ever the team player, makes his entrance in an ensemble cluster made up of the motley dozen castmates. When he finally steps away from the herd, he paints on a black mustache à la Groucho — and voila! Captain Hook has arrived.

Back then, Hook was Black Stache — a shiftless, unformed villain looking for a hero who could give Stache's own life a direction and meaning. Peter and the Starcatcher amusingly connects the dots to Barrie's original.

Although he never saw it, there is in Borle's Tony-nominated Young Hook an echo of the overripe, foppish pirate chief that the late Cyril Ritchard famously played to Tony-winning effect in the Mary Martin production of Peter Pan in 1954. "I think it's more instinctual — how we, as a culture, know Captain Hook and picture him and think of him," Borle says. "A lot of it is subconscious, and the rest of it is just what Rick Elice wrote. I was either foolish or naïve, but the previous Hooks didn't intimidate me — partially because this is a different piece and I can hide behind the fact that this is a guy named Black Stache. People can extrapolate for themselves, from what we're doing to the broader Peter Pan mythos."

Read Playbill's Stage to Screens column about Christian Borle.