STAGE TO SCREENS: A 2011-12 TV Season Packed With Stage Stars



Photo by Will Hart/NBC
*
TV fans are filled with anticipation for Ashton Kutcher tag-teaming up with "Two and a Half Men" in the wake of Charlie Sheen's public meltdown and dismissal, Simon Cowell's relaunch into primetime with the hot new singing competition show "The X Factor," and the unveiling of hyped new series like "Terra Nova" and "Person of Interest." But for theatre lovers and Broadway babies, the most breathlessly awaited show of the season — indeed, the most anticipated series since "Glee" sang its way into our hearts in 2009 — is the upcoming NBC drama Smash. But fans will have to wait just a little bit longer. The series won't debut until midseason, in early February.
A backstage drama about the making of a Broadway musical (this one centered on the life of Marilyn Monroe), "Smash" features a slew of veteran talent from the Broadway and New York theatre scenes. Focusing on the dreamers and schemers striving to land their big break on the Great White Way, the series centers on the successful songwriting duo of Tom (played by Tony Award nominee Christian Borle, Legally Blonde: The Musical, Signature's Angels in America) and Julia (Emmy Award winner Debra Messing from "Will & Grace"), who set out to write a musical based on the life of Marilyn. Julia recently began the process of adopting a child with her husband of many years, Frank (beloved Broadway regular Brian d'Arcy James). But her focus is torn when she has the opportunity to write another Broadway show. Meanwhile, a classic rivalry story forms as two actresses square off for the lead — there's the youthful, inexperienced Midwestern beauty Karen (Katharine McPhee, "American Idol") — who yearns to see her name lit up on a Broadway marquee — and stage veteran Ivy Bell (Megan Hilty, 9 to 5: The Musical, Wicked), who wants to shed her chorus-girl identity and finally land her big break. The series stemmed from an idea by Steven Spielberg, who executive produces, but there's a raft of Broadway and theatre creatives behind the scenes. The pilot was written by acclaimed playwright/screenwriter Theresa Rebeck (Mauritius, plus this fall's Seminar and Broadway and Poor Behavior at Mark Taper Forum), who will serve as the show's creator, head writer and co-executive producer. Original songs for the series are written by Marc Shaiman and Scott Wittman, the Tony Award-winning musical team behind Hairspray and Catch Me If You Can. Spring Awakening and American Idiot director Michael Mayer directed the pilot. And Hollywood mega-producers Craig Zadan and Neil Meron, who helmed the big screen treatments of Chicago and Hairspray, serve as executive producers. And if "Smash" is a success, no doubt the show will be serving as a steady employment haven for New York theatre types for years to come.
While "Smash" is getting all the hype in theatre circles, there are plenty of other places to catch beloved stars of the Broadway stage making new transitions to TV this season or returning to the medium after previous stints.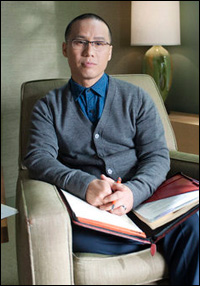 photo by Lewis Jacobs/NBC

Cherry Jones, a longtime Broadway regular who captured a Tony for playing the stridently certain nun in John Patrick Shanley's Pulitzer Prize winning Doubt, and BD Wong, who scored a Tony for his Broadway debut in M. Butterfly, return to television in the new and daring new NBC drama, Awake, which premieres midseason. The envelope-pushing series revolves around Detective Michael Britten (Jason Isaacs) and the parallel lives he appears to be toggling between. Regaining consciousness after a major car accident, Britten finds his world shattered when he learns that his wife Hannah perished but that his teenage son, Rex, has survived. As he tries to pick up the pieces of his life, he awakens again in a parallel reality in which his wife is very much alive, but his son Rex is dead from the car accident. In order to keep both of his loved ones alive, he begins living two dueling realities in parallel worlds — a delicate psychological tap dance that finds Britten torn in two, psychologically, and increasingly uncertain of his own sanity. Jones, who played President Allison Taylor for the last two season's of "24," and Wong, perhaps best known for his longtime role as resident forensic psychiatrist and criminal profiler Dr. George Huang on "Law & Order: SVU," will play Britten's therapists in each respective world. It's to them that he confides his secret about his dual lives and shifting consciousness. Critics who have viewed the pilot have raved about it, so this one has serious hit potential.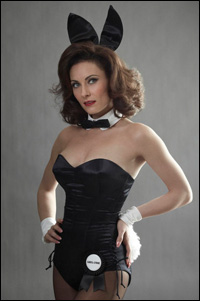 photo by John Russo/NBC
With Pan Am (ABC) and The Playboy Club (NBC), the broadcast networks are trying to steal a page from cable and capture the swinging 1960s vibe of "Mad Men," AMC's Emmy-winning dramatic showcase, with its stylish sets and martini-swilling men in sleek suits, not to mention the sexist workplace environment and perverse air of male chauvinism providing disconcerting tension. The same dynamic, albeit less subtly handled, is in evidence in "The Playboy Club," which premieres Sept. 19 and airs Mondays at 10 PM ET. The show explores the seductive fantasy promised by Chicago's legendary Playboy Club in its early '60s heyday — a provocative time and place that challenged existing social mores and transformed American culture forever. Theatre fans will be thrilled to know that Tony Award-winner Laura Benanti, who wowed audiences with her transformation from demure Louise to the sultry and defiant Gypsy Rose Lee in the Patti LuPone-headlined Gypsy revival in 2008, stars in "The Playboy Club" as Carol-Lynne. A golden-voiced bombshell beauty who's the established star bunny at the Playboy Club, Benanti's character is striving to be more than just a pretty object of lust. Benanti was most recently seen on Broadway in the Lincoln Center productions of Women on the Verge of a Nervous Breakdown and In the Next Room (or the Vibrator Play). Her character is dating Nick Dalton (Eddie Cibrian), the ultimate playboy and one of the city's top attorneys — but sparks are flying between him and another bunny, so watch out!
Meanwhile, in "Pan Am," which premieres Sunday, Sept. 25 at 10 PM ET, the sexy, carefree allure of the Jet Age is the inspiration and backdrop for this new 1960s-set series centering on the crew members (including a quartet of flight attendants) on a transatlantic airliner. While the series co-stars former big screen ingenue Christina Ricci, one of the key roles is tasked to Kelli Garner, who most recently starred Off-Broadway as the young Nina in the Classic Stage Company's 2008 production of Chekhov's The Seagull alongside Dianne Wiest and Alan Cumming; and in Bert Royal's Dog Sees God Off-Broadway. In "Pan Am," Garner plays the free-spirited Kate — a flight attendant working on the same crew as her beauty-queen younger sister (a runaway bride who recently escaped a life of domestic boredom for a world of adventure). Kate helped Laura flee her parents and fiance's grip, and now her character's daring, resourcefulness and spunk will be put to the test as a secret in-air spy and CIA informant.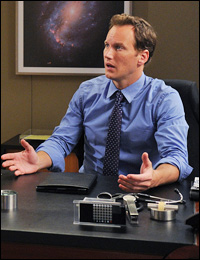 photo by Heather Wines/CBS
Patrick Wilson, that hunky heartthrob of thinking men and women everywhere, has proven himself a leading man of the stage (The Full Monty, the 2002 revival of Oklahoma!, All My Sons in 2008) and screen ("Angels in America," "Little Children," "Watchmen"). Now he's set to tackle his first headlining role in a TV series. In A Gifted Man, which premieres Sept. 23 at 8 PM ET on CBS, Wilson's flawed hero, Michael Holt, sees dead people — well, one dead person specifically, his deceased ex-wife. The show centers around Wilson's abrasive workaholic surgeon (paging Dr. House!), whose life changes forever when his dead ex, Anna Paul, begins teaching him the meaning of life from the "hereafter." She spent years after their divorce caring for the poor at a free health clinic, while Holt made bank by running a concierge-style medical center for the super-rich, and she compels him to change his selfish ways. Wilson, who asked that the series be shot in New York, recruited a raft of veteran theatre actors for the show, including Jennifer Ehle (The King's Speech, The Coast of Utopia, The Real Thing, Macbeth) as his ex-wife; Pablo Schreiber as Anton, a shaman friend of Michael's sister who believes that Anna is a spirit; and guest stars like Bill Irwin and Marin Ireland.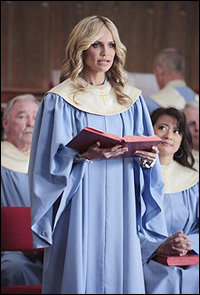 photo by Bill Matlock/ABC
After turning heads as Annabeth Schott on "The West Wing," Olive Snook on "Pushing Daisies," and a scene-stealing arc as the booze-soaked April Rhodes on "Glee," Kristin Chenoweth is once again back on the small screen in the midseason ABC ensemble comedy, G.C.B., as a Southern bitch (the creators' original language) with a milk-spitting whopper of a name — Carlene Cockburn. Chenoweth, of course, is that pint-sized wonder with the larynx of steel who's beloved by Broadway babies for originating the role of Glinda the Good Witch in Wicked. She was last seen on Broadway in Promises, Promises in 2010. Shortened from "Good Christian Bitches" (the book it's based on), or "Good Christian Belles" (depending on whether the Parents Television Council is screaming at you), "G.C.B." reads like a Southern religious spin on "Desperate Housewives," with a more wicked and pungent bite. This soapy new drama, from "Sex and the City" creator Darren Star, revolves around Amanda Vaughn, the ultimate high-school mean girl who's returned to her hometown in disgrace after her marriage ends in scandal. As her old classmates (including Chenoweth) reacquaint themselves with the "new" Amanda, the ladies alternate between sympathy and scheming while Amanda and her teenage kids try to adjust to their new lives. Will they welcome her with open arms or seek revenge?
As another entry in the "Someone Please Give this Theater Actress a TV Series" category, Chenoweth's co-star in Promises, Promises, Katie Finneran, co-headlines the new Fox series I Hate My Teenage Daughter, which premieres Nov. 30 at 9:30 PM ET. Finneran, who won supporting actress Tonys for Promises, Promises in 2010 and Noises Off in 2002, co-tars with former "My Name Is Earl" Emmy winner Jaime Pressley as single-mom BFFs — both former nerds — who fear that their spoiled and snotty daughters have spun out-of-control. Finneran plays Nikki, once an unpopular, overweight social pariah, now a pretty Southern belle, who allows her daughter to do as she pleases. The moms have given the girls everything: clothes, money, and an overabundance of self-esteem. The unintended consequence is that they've created a couple of mean-girl monsters just like the ones who tortured them years ago. A veteran New York theatre actress, Finneran virtually walked off with the show in two show-stopping scenes with Sean Hayes in Promises, Promises. As Marge MacDougall, the speech-slurring, boozy bar floozy, Finneran fluttered about in a feathery coat that she drunkenly claimed was "owl" and threw back glass after glass of hooch. The character is what the kids call a hot mess, and Finneran delivered a rip-roaring comic dynamo of a performance that won't soon be forgotten. We'll see if the actress can work that same kind of comic magic for the television cameras.