STAGE TO SCREENS: Cherry Jones of "24," Blair Brown of "Fringe," Plus Lansbury and Arcati



Photo by Joseph Viles/
*

"24" (March 2, FOX, 9 PM ET): Led by Gen. Benjamin Juma, the White House is under siege by terrorists.

Juma: "Get the camera ready for a statement."

President Taylor: "What statement?"

Juma: "The last one you'll ever give." [BLACK OUT]

Since this column first appears the day before the next episode, I ask a rhetorical question: "What happens next?" I'm aware that Cherry Jones, who excels as Allison Taylor, the nation's first female Chief Executive, can't answer — under risk of impeachment. "Oh, Michael, you don't want me to be your personal spoiler; do you?"

Frank Langella has told interviewers that it enhanced his performance in "Frost/Nixon" to be addressed on the set as "Mister President." Did people on "24" call Jones "Madame President"? She responds, "Only in great jest."

Happy to be back in Manhattan, Jones explains, "I came back about a month ago, and as I was on my way to Murray's Bagels [on Sixth Avenue], I just started to cry. I was in Greenwich Village, on my way to a get a New York City bagel. I've been trying to get here for two years.

"I did the tour of Doubt [for which she won a 2005 Tony, her second] for many, many months, and then '24' came up. Then the writers' strike happened [2007-08], and then my mother had a stroke. [Her parents live in Jones' native Paris, Tennessee.] Part of taking this job was I couldn't do eight [performances] a week, at that point in my life. I needed to be able to get home. Thanks to '24,' I've been able to be home about a week every month."

Having read that she based her character on Eleanor Roosevelt, Golda Meir and John Wayne, I ask if it's true. "I pulled those three names out of a hat. I got so tired of everyone saying, 'Is it Hillary [Clinton]?' Then, I realized that I got closer to the truth than I intended.

"Eleanor Roosevelt is someone I've always admired, for her strength and compassion. And certainly Golda Meir, for her steel and courage. I threw in John Wayne for a little bit of swagger, which the show requires at times."

She's been quoted that there's no political party affiliated with Taylor, but that "her hair is Republican." Observes Jones, "Yes, I think that's probably the case; don't you?"

Jones' role on "24" has brought her new recognition. "I've never really had any kind of celebrity that television gives you. The kind of celebrity I have in New York is the sort that a local star of the community theatre in Topeka has. It's a wonderful, low-level kind of celebrity. I walked into my accountant's office, yesterday, to bring in my taxes, and I had to have my picture taken with three of her co-workers. [Laughs] But it's fun.

"My sister, Sarah, and I were talking, and she said, 'I promised myself — but I just need to know: Is that Chief of Staff of yours rotten?'" Bob Gunton plays Jones' Chief of Staff, Ethan Kanin.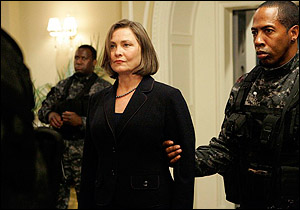 photo by Kelsey McNeal/ FOX

How familiar was she with "24" before joining the cast? "I knew that it was violent. I knew the conceit of the show. [Each episode's presented in real time; each season's a day in the life of Jack Bauer (series' star Kiefer Sutherland), the only main-cast character to have appeared each season.] I remembered reading about it after 9/11. They were unsure if it was going to air, because it hit too close to home. [The series premiered Nov. 6, 2001.]

"The other thing I knew was that Charlie Rose loved it. Whatever Charlie Rose says goes in my house. [Laughs] I had trouble with the violence, and I abhor the notion of torture [sometimes inflicted on villains]. I couldn't imagine how I was going to be able to do it.

"Once I started watching [DVDs of past episodes], I was fascinated by the character of Jack Bauer, and I fell so in love with Kiefer Sutherland. I was so struck by the way it moves, and the production values. I became addicted.

"Howard Gordon [head writer-executive producer] referred to '24' as a soap opera. I'd never heard a writer call his own show a soap opera. But these guys know exactly what they're writing — and they're really, really good at it. They're writing a soap opera of a comic book.

"This season [the series' seventh, which starts and ends at 8 AM ET] was supposed to air in January '08, but because of the writers' strike, they postponed it a year. We resumed shooting in April, and finished in December."

Does she find it different to create a role on TV, as opposed to a stage character? "Yes. On television, you don't know who you are. The first two episodes I got, and shot, were basically all I knew about this woman. I knew that I was about to launch a war, and I knew that I had a son, who had committed suicide [later found to have been killed], but I didn't know I had a daughter.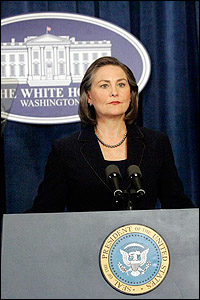 photo by Kelsey McNeal/ FOX

"We were 12 episodes in, and about to shoot 'Redemption' [the Nov. 23, 2008, TV-movie that introduced Jones] when I found out I had a daughter. We had a scene where I tell her, 'Let's not go into that now.' As I was saying that, I did not know what she had done. [Laughs]

"Information is being hurled at you at 90-miles-an-hour. It's almost like a huge improv, where you're carving out the character as you go. It's the exact opposite from the theatre, where you know the beginning, middle, and end.

"You study the structure and the arc of a play for weeks, before you put it in front of an audience of a few hundred people. In television, you have two minutes to rehearse, and you're out there in front of 10 million people.

"A great amount of grounding, as an actor, is needed to pull it off. I'm not saying I've done that; I'm not sure if I have pulled it off. Joel Surnow, who [with Robert Cochran] created the series, told me that actors love this show, because there's no past, and no future — just the moment."

Was Jones upset about not being able to reprise her role (played by Meryl Streep) in the movie of "Doubt"? "Of course, there was a moment, because I knew Aloysius so well. I loved her. It had been such a wonderful experience. But it would have been wrong for me to do the film.

"John [Patrick Shanley, who wrote the play, directed his screenplay] needed to have actors he could direct. I had done it onstage 708 times, and I was Doug Hughes' Aloysius. [Hughes directed the play.] Doug's fingerprints were all over that performance. He really helped me craft her.

"I can't help but feel that the story makes for a stronger story and has a bigger impact on stage. It's a parable, and parables are easier to do well onstage. You don't need to open it up. Mean, lean, compact, four people. It's all left to the imagination. That's not, in any way, meant to diminish the film. More people will get to see it."

Recalls Jones, "Really early-on in rehearsals, I watched Brian and Heather [her co-stars, O'Byrne and Goldenhersh] play that gorgeous garden scene. Watching the two of them was riveting! That was the first time I thought: Maybe we really had something with this production. They had such a beautiful chemistry together. [They're now married.] They have a darling baby girl. I love that Molly Rose O'Byrne [their child] is the ultimate product of Doubt."

Stepping Out marked Jones' 1987 Broadway debut, and The Heiress brought her first Tony Award. She's very fond of Philip Bosco, who played her father in the play. Jones' partner, actress Sarah Paulson, "is about to do a play called The Gingerbread House, [Off-Broadway] at the Rattlestick [Theatre, opening April 18]."

Does Jones have any stage plans? "I'm raring to get back onstage, and I will, as soon as it makes sense with my family [situation]." Have any artistic or stage directors asked if she has a dream role? "A few have, and I've never known how to answer. I've joked, 'I have always depended on the kindness of artistic directors.'

"I've been fortunate to trip over wonderful opportunities. I love new plays. I've enjoyed the revivals, but the plays that have meant the most to me were the new works: The Baltimore Waltz, Pride's Crossing, Doubt, and working on Flesh and Blood, at the New York Theatre Workshop.

Have those experiences given Jones the most satisfaction? "Those, and playing Viola in Twelfth Night, for Andrei Serban [December 1989]. Diane Lane was Olivia, and Diane and I have remained close friends. At that point, I thought: Now, I can hang out my shingle as an actor."





photo by Adam Taylor/ FOX

Danger's waiting in the wings, as Gen. Juma (Tony Todd) menaces President Taylor on the March 9 episode of "24." I tell Jones that she was the reason that my wife and I tuned in "24: Redemption," and that now the series is our favorite. "Hey, listen, that my theatre buddies like it really means more to me than anything."

Great actors can create great moments, which are rarer on television than onstage. I say that my wife cherished the moment, a few episodes back, when Jones as Taylor kisses her husband (Colm Feore), as he's being wheeled into an operating room. The exquisite look on Jones' face spoke volumes. Says Jones, "Please tell your wife that really means a lot to me."