STAGE TO SCREENS: Christian Borle, "Smash" Star and 2012 Tony Nominee for Starcatcher



Photo by Monica Simoes
*
Following an acclaimed run as the menacing — yet bumbling — Black Stache in the New York Theatre Workshop production of Peter and the Starcatcher, Christian Borle is revisiting the beginnings of Captain Hook at Broadway's Brooks Atkinson Theatre. He recently received a 2012 Featured Actor Tony Award nomination for his performance as the bigger-than-life pirate. In between the downtown and midtown engagements of Starcatcher, Borle — previously a Tony nominee for his performance as Emmett Forrest in Legally Blonde — tackled the world of television in the musical drama "Smash," starring as composer Tom Levitt, the quirky counterpart to lyricist Julia Houston (played on the series by Debra Messing). The cliffhanger first episode of "Smash" aired May 14. The second season begins filming this summer. For now, Borle is hamming it up eight times a week in Neverland.
Congratulations on the Tony nomination! Peter and the Starcatcher was very well received. What is the tone at the Brooks Atkinson?
Christian Borle: Pretty ebullient — if I can throw that word at you before noon! [Laughs.] I am enormously gratified, as I know the rest of the cast and the whole creative team is, to get this recognition. [Co-directors] Alex [Timbers] and Roger [Rees] and [playwright] Rick [Elice] have been working on this play for five years — since [its early development at] Williamstown [Theatre Festival] — and then a bunch of us came on three years ago [for a workshop] at La Jolla [Playhouse]. So after three years of pouring love and devotion into this very special play, walking through the stage door on 47th Street has its own sense of surreality. And, to have people respond so positively has been icing on the cake — truly.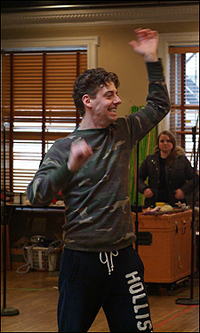 photo by Stephanie Warren

I saw the show both on and Off-Broadway. The positive response has only seemed to increase. What was the transfer like for the actors?
CB: Well, on stage it feels exactly the same in terms of the set, the spacing and the lights. Obviously, one major adjustment is that we have to look up because suddenly there is a mezzanine! [Laughs.] I have to say that an enormous amount of credit goes to the sound design because [although] we are miked, it feels like there's still a sense of intimacy. [There's not] the usual struggle to make it feel organic and present. They've done a remarkable job, and I think that helps fill the space while also making it seem intimate.

Take me back to your early involvement with Peter and the Starcatcher. You began your journey with the show at La Jolla?
CB: I did. What was so crazy about it was that, originally, the amazing Steve Rosen was going to play Black Stache in La Jolla's Page to Stage program, which is just like a workshop. You get there, you rehearse during the day, and you perform at night. Nobody really knew what it was going to be. And, sweet Steve, whom I've worked with in Spamalot — who is, incidentally, a genius — got Guys and Dolls on Broadway working for Des McAnuff. And, when Broadway calls, you answer! He did, and so they were scrambling to find somebody, and Rick Elice had seen me in a reading and brought me in. I read with him in front of Roger — and I was a little star-struck — and that was the beginning of the journey. Ironically enough, when "Smash" came around last year, they needed to have somebody [perform] Black Stache on the days that I was filming, and they brought in amazing Steve Rosen... It's funny how life works. I couldn't bring myself to go see him because I think he's a friggin' genius, and I know, deep down inside of my little human heart, I would have been very jealous of the brilliant things he had come up with that I hadn't. [Laughs.]

What was your schedule like when you were doing Starcatcher and filming "Smash"? It must have been hectic!
CB: It must be reiterated that it's the most amazing, swirling time [for me]. The people at the New York Theatre Workshop and our directors were so gracious. I think they recognized that when getting something like "Smash," you really do have to go on that adventure, so they were very accommodating. I did "Smash" during the weekdays and Starcatcher on the weekends for a few weeks. In the thick of actually shooting a season of "Smash," the timing just worked out that I finished season one right around the time that [Broadway] rehearsals began. I had to juggle that for a few days, but now I'm all Starcatcher all the time.