STAGE TO SCREENS: Dan Stevens, From "Downton Abbey" Heir to Broadway's The Heiress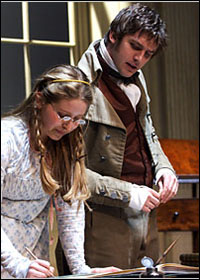 Photo by Catherine Ashmore

Your last stage appearance was in 2009 as Septimus Hodge in the West End revival of Tom Stoppard's Arcadia. Were you itching to get back on stage?
DS: I was. Every couple of years, I find myself missing the theatre. It's where I started out, and I've always loved it. But I guess I'd sort of forgotten the thrill of it until I got back onstage here, especially with Broadway audiences, who are famously the best in the world. It's such a great feeling, and I love getting out there every night. Coming back to theatre is something I'm keen to do for the rest of my life. It recharges my batteries, so to speak.

Have you found any notable differences between Broadway audiences and the audiences back home?
DS: The Broadway audiences are very vocal and seem very engaged. For certain shows, especially with a show like The Heiress, the audience's reactions sound like "The Jerry Springer Show" sometimes. That seems to be a very New York thing. Oh, there's also the entrance round of applause here, which we don't get too much in London.

I'm not surprised that your character gets some strong audience reactions. On paper, Catherine's suitor comes across as a dishonorable, gold-digging villain.
DS: And I think it's possible to see him like that. But with this production Moisés and I were very interested in exploring how much honor you can find in him. I think you can believe a lot of what he says. Sure, he would've enjoyed Catherine's wealth and luxury, as would anyone, but maybe he and Catherine would've had a nice life together — we're not sure. He may've really loved her, but we'll never know. With a well-known play like this there are certain expectations, so people look out for the lines where Morris comes across as a gold-digger, but I like trying to find the good in him as well.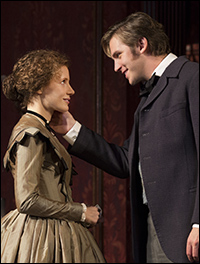 photo by Joan Marcus

What a responsibility you must have to defend poor Morris, time and time again.
DS: [Laughs.] Yeah. But it's interesting, because a lot of people familiar with the play and the movie version have come to see our show and have had their expectations of Morris confounded. It's a refreshing production in the sense of how we've approached all the characters.

Were you already familiar with the play or the 1949 film when you were offered the role?
DS: I'd never seen a production of the play. I had seen the movie, but I haven't revisited it. I suppose I just wanted to focus on the text and the interpretations of the characters that Moisés and our cast have come up with. And I think it works. It makes sense to me.

Tell me something you learned about Morris during the rehearsal process that wasn't initially on the page for you.
DS: When Henry James was writing these characters in "Washington Square," he was certainly aware of this sort of new wave, a reaction to the Industrial Revolution, when there was a kind of young man who wasn't necessarily cut out for rugged hard work and who enjoyed luxury, beauty, and beautiful things for no other reason but for pleasure. I like the idea that there may be an element of that in Morris. While other people are driven by their American work ethic, Morris appreciates beauty, and he finds something beautiful in Catherine; she may not be the prettiest girl, but there's something very open, honest, and pure about her that Morris responds to.